The nursing assistant school classes located in Pottsville and are available for enrollment are shown to you here. For any questions about enrolling in training, you can call the program listed below.
Schuylkill Center
1000 Schuylkill Manor,
Pottsville, PA 17901
(570) 622-9666
If you are looking for work in Pennsylvania as a nurse aide, then it's best that you know what the requirements are for a CNA certification in this state. Knowing the requirements beforehand will help you better prepare for a long-lasting career as a certified nurse aide.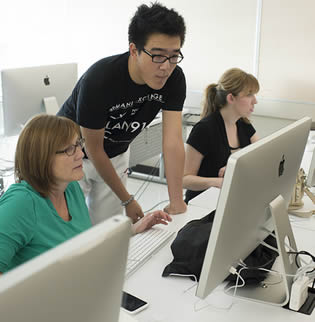 According to the state rules, people with different educational levels can apply for CNA training; though most training schools require their students to have at least a high school diploma or a GED certification. Different schools have different requirements. Many of them definitely require their students to be in good physical shape and free from any communicable diseases. Passing a federal and/or state background checks for criminal records is a mandatory requirement to get into a certified class.
The state requires each class to consist of at least 37.5 hours of supervised hands-on practice and 42.5 hours of classroom instructions.  Completing a training class that's approved by the Department of Education is a requirement to become eligible to apply for the nurse aide license exams. Depending on the training school, it can take from about 4 to 16 weeks to complete your training.  Online training programs do not qualify one to apply for the license exams for online courses do not have the required practical training portion.
You can submit your application for the license exams as soon as you complete your training. The license exams for this state are processed and scheduled by the American Red Cross. All applications must be sent to:
American Red Cross
1804 N. 6th Street,
Harrisburg, PA 17102
The license exams will consist of a 2-hour written or oral exam depending on your preference, and a manual skills demonstration in front of an Evaluator. A candidate is allowed to take the exams within two (2) years of completing his/her training. Every candidate is given three attempts to pass. If on the third, however, the candidate still fails, he/she will be required to complete another CNA class before applying for the exams.
A candidate who was already an employee of a certified nursing facility prior to enrolling in a class may not be charged for any payment. Training and testing fees must be paid for by the employer. A nursing assistant who was only able to get employed within a year after getting certified can get reimbursement from his first employer on a pro rate basis.
You can learn more about how to become a CNA in Pennsylvania by acquiring a copy of the PA CNA Candidate Handbook from the ARC. Request a copy by calling them at (800) 795-2350. You can also try and visit www.pearsonvue.com. You can find out the most recent requirements to become certified by calling the CA Public Health Licensing & Certification program at (916) 552-8700 there's also a toll free phone number at (800) 236-9747.
This city is the county seat of Schuylkill County. The city is located just along the western bank of the Schuylkill River. It is only 97 miles from Philadelphia and belongs to the state's Coal Region. The city is often confused with Pottstown, which is a borough that is located in a different county. According to the 2010 census, their total population had reached up to a total of 14,324 people. They have a population density of 3,410.48/sq mile. The total area of the city is approximately 4.2 sq miles, where all of it is land.
The Schuylkill Regional Medical Center, The Pottsville Hospital and Warne Clinic are the main health care centers that are serving this city. Other health care providers that are located in the area include Advocacy Alliance-A Mental Health Association, Comprehensive Women's Health Services, Genesis Healthcare, Child and Family Support Services, and many more. photo attribution: ufv