The health care facilities in Portland, Tennessee that are conducting nurse aide classes shown on this page are all the current programs that you can sign up for. To receive more information about class schedules, program requirements or tuition rates, you can call the institution listed below.
Highland Manor – Portland Nursing and Rehab
215 Highland Circle,
Portland, TN 37148
(615) 325-9263
A CNA certificate is required in Tennessee if you wish to work as a nursing aide. You will only be certified if you get into the Nurse Aide Registry. There are two ways to get into the NAR. One is by applying for reciprocity and the other is by challenging the CNA evaluation exam.  The evaluation is designed to check the competency of a nursing aide candidate in terms of skills and knowledge. The state's Department of Health has contracted the Headmaster Testing Service to help conduct the exams. If you visit their website at www.hdmaster.com you can apply for the exams as well as get a copy of the Candidate Handbook.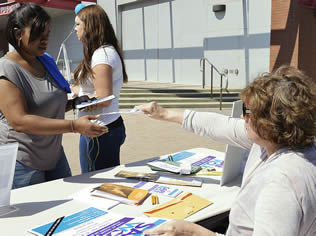 Before you can take the exam you will need to find an approved training class to get the necessary skills and qualifications for the job. Training will provide you with at least 75 hours of instruction that is coordinated by a registered nurse who has at least two years on the job experience. Your course curriculum will include 16 hours of training in 25 different essential nursing skills.
The evaluation exam is divided into a 75-item multiple-choice written exam and a 5 nursing skill evaluation. If you have trouble in reading English, an oral exam may be taken in conjunction with the written exam. The only ones who are allowed to apply for the exams are the following:
•    Individuals who completed a Tennessee state-approved CNA training course
•    Individuals who completed an out-of-state training program but has not yet passed the evaluation exam.
•    Military-trained medics and corpsmen
•    RNs, LPNs, Nursing students and graduates
Most applicants will need to pass both the written and a manual skills test. You will need to score a 70% or higher on the written portion and be able to demonstrate 5 nursing related skills to pass the manual competency test. You must pass both parts of the exams to get into the NAR. You must pass both exams within 3 attempts and within 24 months of completing your training. To remain in good standing it is necessary to show verification of having worked 8 hours as a nurse aide for each 2 year time span.
Reciprocity is only valid for persons who are already listed as a nursing aide in another state. To apply, they must have a valid certificate, a clean record, and pass the national background check for criminal records. Applicants can download a copy of the application packet at http://health.state.tn.us/Downloads/g4010168.pdf. Applicants can verify if they are eligible to test by calling (800) 788-4504 or (614) 741-7173.
The city of Portland that is in, Tennessee belongs to both Robertson and Summer Counties. It also belongs to the Nashville Metropolitan Statistical Area. You can find this city on the Highland Rim, which is on the northern Middle Tennessee. That region has been well known for having a rich soil that is good for agriculture. According to the census of 2011, their total population was about 11,986 people. They had a population density of 961/sq mile. Portland has a total area of approximately 11.4 sq mi 11.4 sq miles, where all of it is land.
Examples of health care clinics and centers that are located within the city include Portland Family Care and Walk In Clinic, Dialysis Associates of Portland, Family and Children's Clinic, Portland Primary Care, Portland Children's Clinic, Fresenius Medical Care, and many more. photo attribution: westconn