The nurse aide training in Pleasant View, Utah is shown here. Schools must be approved to be eligible to qualify students for the certification exams. Call the number provided on this page for information about class schedules, certification qualification, or program tuition costs.
WEBER HIGH SCHOOL
430 Weber High Drive
Pleasant View UT 84414
801-389-7298
(Classes are offered to high school students only)
Being a certified nurse aide is a very rewarding job. As a nurse aide you get to work with licensed nurses and other healthcare team members. Nurse aides work under the direct supervision of the nurse and help provide nursing care to patients. The job description of a nurse aide is very wide and involves tasks such as taking the vital signs, feeding the patients, assisting them with their daily activities, and other related tasks.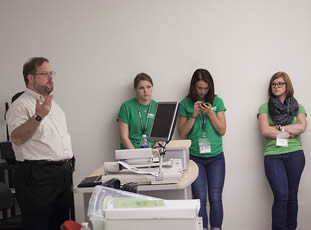 Since nurse aides work closely with patients, almost throughout their entire shifts, they are required by both federal and state laws to get proper training and be certified before working in a state-approve d nursing facility.
CNA programs provide all the knowledge and skills needed by an aspiring nurse aide to take care of the patients. Attending a school course is one of the best ways to become a competent nurse aide. When looking for a program to enroll in just make sure that you select a program that is approved by the Department of Health.
Approved programs are required to offer at least 80 hours of training. These hours are divided into 50 hours of supervised classroom lectures and 30 hours of supervised clinical practice. Those who are enrolled in a facility-based program are allowed to start working as a nurse aide, provided that the employers take responsibility for their actions. These individuals however, are required to get certified within 120 days from the start of their work.
The only way to get certified in Utah is by passing the National Nurse Aide Assessment Program examination or NNAAP exam. Completing an approved class is one way of qualifying for the exam. You can also qualify if by completing one semester of nursing school or taking up units on the Fundamentals of Nursing.
The NNAAP exam consists of a 100 item multiple-choice knowledge test and a practical skills demonstration. Candidates must pass both of these tests in order to gain entry into the Nurse Aide Registry. You can go to www.utahcna.com and download a copy of the Candidate Handbook to find out more about the NNAAP exam.
This city is situated in Weber County. It is also included in the Ogden–Clearfield, Utah Metropolitan Statistical Area. Pleasant View is considered as a suburban community of Ogden. According to the latest census, their total population was around 5,632 people. It has a total area of approximately 6.7 sq miles and has a population density of 837.2/sq mile.
Health care centers and providers that you can find in the area include Caregiver Support Network Home Health and Hospice, Comfort Hospice Care, Haven Home Health, MedSource Inc., DDC- DNA Diagnostics Center, Gynecology Specialists Of Utah, Alpine Home Care & Hospice, Trusted Hands, Mike Kearsley's All Service, Hearts For Hospice and many more. photo attribution: codnewsroom