Students can locate nursing assistant classes that are currently available in Pinehurst, North Carolina below. These course meet the state requirements for curriculum and hours of instruction and have the approval of the NC Dept. of Health.  Speak to a school administrator to learn more about steps to enroll.
Sandhills Community College
3395 Airport Rd, Pinehurst, NC 28374
(910) 692-6185
http://www.sandhills.edu/
A Nurse aide or a nursing aide is someone who helps the registered nurses in taking care of the patients by providing nursing care. They work under the supervision of a registered nurse and the medical staff. This career option is becoming one of the best ways to start a career in health because of its practicality.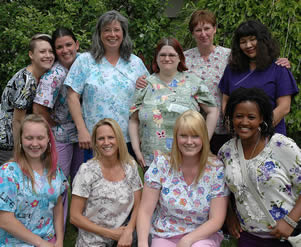 To work as one, all you need is to get certified. Since the state does not offer reciprocity to other states, this means that you will have to challenge and pass the competency test. There are several different ways to become eligible to apply for the test. For example, you can either complete a state-approved nurse aide training course in North Carolina or another state. Those who completed a refresher course may also apply for the exams. If you are a nursing graduate or student of a nursing educational program, you can apply for the exam without the need for additional training.
The competency test consists of a written /oral test and a skills evaluation of the nursing skills that a nurse aide is allowed to do. In order to be certified, you must pass both portions of the test within 3 attempts and within 2 years from the completion of your training. Once you pass, your name will be automatically entered on the Nurse Aide I Registry, which you can check by going to https://www.ncnar.org/verify_listings1.jsp.
Aside from the basic concepts that are required by the federal government to be included in the basic training, the state of North Carolina also places emphasis on the importance of the proper way to take care of the elderly. If you wish to further your career and skills and knowledge, you can try to become a certified geriatric aide.
Before you can work as one, you will need to get your name on the Geriatric Aide Registry. To get on the registry, all you have to do is to complete a state-approved training course. There is no state exam that needs to be taken to be a geriatric aide. That means that as soon as you complete the course, your instructor will enter your name on the Geriatric Aide Registry. Your record on the NAR will also be updated.
Pinehurst is a village that is a part of Moore County. It has a total area of about 14.9 square miles, where almost all of it is land. AS of the 2010 census, their total population was at 13,124 residents. Its population density is estimated to be 917.8/sq mile. This village is a well-known area that continuously holds World Golfing Tournaments.
Health care centers and providers that you may find in the city area include Brick City Primary Care, The Southern Pines Women's Health Center PC, Central Carolina Ear Nose & Throat, Pinehurst Family Care Center PA, Pinehurst Medical Clinic Inc., Walters Ronald MD, Pinehurst Surgical, Mercier Randall R MD, Pinehurst Hip & Knee Center PA, Steiner R Clayton MD, Pinehurst Surgical Facial Plastic Surgery, Williamson Gynecology, and many more. photo attribution: ufv