Those who wish to become certified as a nurse aide in Pembroke, North Carolina can find the latest available classes listed here. These courses meet the training requirements of the certification exams and will allow students to qualify to take the exams once completed. Call the phone number below to receive details such as class room schedules, program curriculum, and the cost of tuition.
Robeson Community College
124 Livermore Dr
Pembroke, NC 28372
(919) 272-3700
http://robeson.edu/
Getting a nurse aide certificate is easy if you know what to do. Just like any other profession, basic training is always the first thing that must be done. When you are looking for a facility to enroll in, it must be certified by the state. You can find suitable training programs being offered by community colleges, private institutions, nursing homes, high schools, and even online.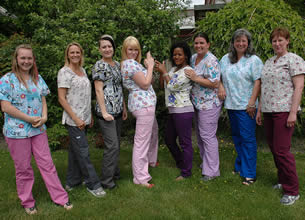 Your training will compromise practical duties and theoretical session in the classroom. While in the program, you will learn different nursing skills and knowledge needed to properly take care of the patients. Among the common topics that are required to be discussed include basic care, infection control, body mechanics, nutrition, patients' rights and independence, how to assist in their activities of daily living, communication techniques, and safety and emergency procedures. To complete your training, you must meet the required 75 hours of training and pass the program's final exam.
Although training institutions may differ when it comes to their enrolling requirements, many of them will require you to be at least 18 years old, have a high school diploma, have a sound mind and a healthy body, get a negative result in the TB test, and pass the national criminal background check.
Completing a training course will make you eligible to apply for the competency exam. With the NAR's new system, applications for the exams are now done online (https://i7lp.integral7.com). Initial takers and individuals who already created an account but failed to take the exams within the last 2 years are required to create a new account.  Once you create your account, you can then schedule an exam date. When you choose a date, make sure that you reserve it at least 16 days before.
The competency exam consists of two parts. Its standard setting is a written exam and a skills evaluation, but for those with some difficulty with written English, they can get an oral exam instead. If they wish to have the oral version, they must make the request during their application. If they need any special considerations when taking the exam due to some disability, they must also place the request upon applying for the exam. For more information about the process of becoming a nursing aide, please download a copy of the candidate handbook (http://asisvcs.com/publications/pdf/073400.pdf).
Pembroke is a found in Robeson County. It is the tribal seat of the Lumbee Indian Tribe. According to the last census, their total population was around 2,399 people. This town has a total area of approximately 2.3 sq miles. Its population density is about 1,023.9/sq mile.
Examples of health care centers that you can find in the area include Healthkeeperz – Nurses, Indian Health Care, Fresenius Medical Care, Trinity Urgent Care and Family Practice, Robeson Health Care Corp, Southeastern Urgent Care Pembroke, Southeastern Outpatient Center Pembroke, Continuum Care Services Inc., Floyd Leigh Ellen Certified Physicians, Chaparral Youth Services, and Angelo's Care Home. photo attribution: ufv