The nursing assistant training programs that are currently open for enrollment in the city of Paris, Tennessee are shown on this page. For any inquiries about signing up for a school, you can call the facility number shown below each faculty.
Paris Healthcare and Rehabilitation
800 Volunteer Dr.,
Paris, TN 38242
(731) 642-2535
Tennessee Technology Center
312 South Wilson St.,
Paris, TN 38242
(731) 644-7365
If you wish to become a nursing aide in Tennessee, you must gain entry into the Nurse Aide Registry. Once you are on the Registry, you will be certified. Employers will verify your certification before they hire you. The certification process in this state is quick and easy if you know what to do.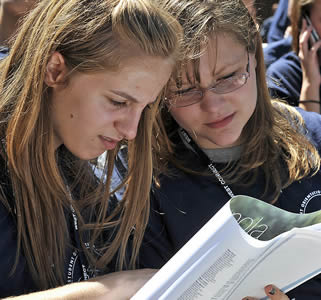 If you have never been certified as a nursing aide before, then you will have to start by enrolling in a state-certified CNA course. The state's Department of Health is responsible for certifying courses. To make sure that you will receive standard training, you must only enroll in a course that is approved by the DOH. These courses can be found offered by community colleges, nursing homes, assisted living centers, hospitals, and even online.
Their curriculum is divided into lectures and practical training under the supervision of a registered nurse who is qualified to handle nursing aide students. Courses are required to offer no less than 75 hours of training to their students. You will learn 25 basic nursing skills as well as the different components that were defined by the state and federal regulations. Before you proceed to the practical portion of your training, you will spend at least 16 hours learning about the following concepts:
•    Infection Control
•    Communication and Interpersonal Skills
•    Residents' Rights and Independence
•    Safety and Emergency Procedures – including CPR and the Heimlich Maneuver
Once you complete your training, you will be ready to challenge the certification exam. Taking this exam is the only way for you to gain entry into the NAR. This exam consists of a 75-item written knowledge test and a practical skills evaluation. If you have difficulty in reading English, you may request an oral exam instead. With the manual skills test you will need to perform your aptitude in 5 of the skills you learned during class instruction. With the written section of the exams you must score at least a 70% to pass. The certification exams in this state are currently handled by D&S Diversified Technologies. You can apply by going online at www.hdmaster.com or by submitting the application forms (http://www.hdmaster.com/testing/cnatesting/tennessee/tnformpages/tnforms/1101TN.pdf).
If you pass both exams, your name will be entered into the NAR. You will remain eligible so long as your name is on the Registry. To keep your name there, you must find work as a paid nursing aide for at least 8 hours in a certified nursing facility. For your work to qualify, you must be under the supervision of a licensed nurse during that time. Private work, sitting, and working in a physician's office is not considered qualified work.
This city is a part of Henry County. It serves as the seat of government for the county. You can find this city a few miles northwest from Nashville and on the fork of the West Sandy River. You can find a replica of the famous Eiffel Tower in this city. As of the 2000 census, their total population was about 9,763 people. It has a population density of 897.4/sq mile. The total area of this city is approximately 10.9 sq miles, where all of it is land.
There are numerous health care centers that are located in the area; they include Dialysis Clinic Inc., Paris Health Care, East Wood Clinic, McCoy Medical Wound Care, Haynes Medical Clinic, Henry County Healthcare Center, Lake Haven Behavioral Center, HCHC Plumley Rehabilitation Center, and Carey Counseling Center. photo attribution: westconn