The CNA Classes in Overland Park, Kansas that are currently being shown on this page offer the most recent certification instruction available as of the making of this page. For any questions, please call and speak with a program administrator.
Johnson County Community College
10000 West 75th Street, Suite 241, Overland Park, KS 66204
(913) 469-2350
http://www.jccc.edu/ksbdc/
(Multiple classes are available)
Midwestern College
9545 West 87th Street, Overland Park, KS 66212
(913) 385-2144
http://www.midwesterncollege.org/
This is a great time for you to consider becoming a nursing aide. With the increasing demand for the profession, the will always be work ready for those who just graduated and become certified. Depending on the program you select to enroll in, it will take you an average of 2 to 3 months to complete your training. So long as the program is approved by the state, you may apply for the license exams afterwards.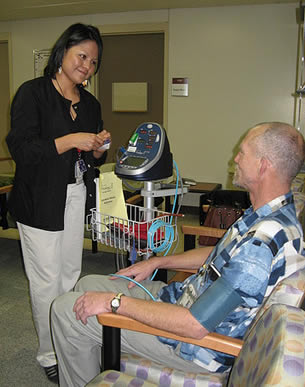 As a nursing aide student, you will be taught in different concepts such as infection control and prevention, the promotion of the patient's health, maintaining hygiene, mental health, and other topics of the Fundamentals of Nursing. You will also spend a great deal learning the basic competency skills. After you learned those, you will then be exposed to the clinical area. At the end of your training, you will have a total of 90 hours of training.
Taking the license exam is a requirement for all those who wish to work as a nursing assistant in Kansas. The test is conducted by the Health Occupations Credentialing, KDADS. You will need to have two forms of identification with at least one form a picture I.D., to be allowed to take the test. Your social security number will also be required to verify your identity before the test takes place. You must score at least a 75% on the exam in order to pass. New applicants are allowed three tries to pass. Unlike many states, the exams will not be waived for those who are applying for reciprocity even for CNAs from other states. Keep in mind that reciprocity in Kansas is only offered to selected states. After you are hired you will be tasked with taking care of the patient and communicating with the patient's family using the basic health care skills and perform other tasks that you learned during your training.
Overland Park is a part of Johnson County. It is the largest suburb that is a part of the Kansas City Metropolitan Area. You can find it near Olathe, Lenexa, and Leadwood. With a total population of 173,372 during the 2010 census, they are the second most populous city in Kansas. They have an estimated population density of 2,300/sq mile. The total area of the city is estimated to be around 75.3 sq miles, where all of it is land.
The Overland Park Regional Medical Center is one of the largest employers in the city. It has over 1,000 employees. Other health care centers that you can find in the area include Thomson Health Care, Preferred Mental Health, Johnson County Psychiatric LLC, Sunflower Healthcare, Prairie Surgical Care, Saint Luke's Medical Group-Southridge, Supplemental Health Services Inc., Arizant Health Care, Gentiva Health Services, RehabCare, and Ward Parkway Health Services. photo attribution: armymedicine