Classes in Orange, Virginia that instruct one to become a certified nurse aide and be eligible to work in health care facilities throughout the state are listed below.  During the training students will practice using medical procedures in a hospital environment and get theory to prepare them for the job.
Orange County Nursing Home and Home for Adults
120 Dogwood Lane
Orange, VA 22960
(540)672-2611
Orange County High School
201 Selma Road
Orange, VA 22960
(540) 661-4300
If you are planning on becoming a nursing aide in Virginia, then you better learn what the state's requirements are in becoming one. Each state has its own set of requirements to be a CNA. Virginia's requirements involve the following: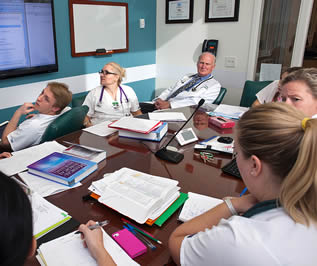 –    Successful completion of a state-approved program
–    Passing the criminal background checks
–    Applying for the NNAAP exam
–    Taking the NNAAP exam
–    Getting a certification
CNA Training
Nurse aide training programs are offered throughout the state of Virginia. You can find them offered by different healthcare facilities such as long-term care centers, hospitals, nursing homes, community colleges, vocational and technical schools, and government organizations. The average program can be completed within 8 to 24 weeks of continuous training.
If you get accepted into a program, then you'll be spending at least 75 hours learning the knowledge and skills needed to become a competent nursing aide. You'll be taught basic nursing procedures and skills like taking the vital signs; and assisting patients with their daily activities such as bathing, dressing, toileting, making their beds, eating, exercising, ambulating, and many more.
Applying for the NNAAP Exam
Your instructor will give you the application packet at the end of your training. If you don't get one or lose yours, then you can go online and download a copy of the forms through this link: http://www.asisvcs.com/publications/pdf/075301.pdf. You'll need to send the forms along with the payment of $94 for the testing fee. All applications must be sent to the address below:
NACES Plus Foundation, Inc.
8501 North Mopac Expressway, Suite 400
Austin, Texas 78749
(800) 758-6028
Taking the NNAAP Exam
You'll need to come at least 30 minutes before the actual schedule of the exam to avoid being late. Latecomers are not allowed to enter the testing area once an exam has begun. You must also bring 2 valid IDs for the pre-exam check-in. You won't be allowed to take the exam if you fail to bring the IDs.
The NNAAP exam consists of a written test and a skills evaluation exam. Candidates who have trouble reading English can request for an oral exam instead of the written test. Unlike some states, there is no extra charge if you prefer to take the oral exam. If you want to take the oral exam, you must indicate it upon applying for the NNAAP examination.  Candidates must pass both tests to get a certification.
This town is the county seat of Orange County. You can find this town a few miles northeast of Charlottesville and near Montpelier. According to the census of 2010, their total population was around 4,721 people. It has a total area of about 3.3 sq miles, where all of it is land. Its population density is around 1,422/sq mile.
Examples of health care facilities that you can see in the area include University Physicians-Orange, Orange Free Clinic, Behavioral Healthcare of Rappahannock, Orange Family Physicians, Psychology Associates, and many more. photo attribution: codnewsroom