The training in Onley, Virginia that is offered for one to learn how to work as a nursing assistant can be found here. During the instruction, students will get to practice using medical skills and receive theory and lab classes to prepare for employment in the health care field.
T. H. Badger Career and Technical Education Center
26350 Lankford Hwy.,
Onley, VA 23418
(757) 787-4522
Nursing aides are vital members of the health care team. They help nurses take care of patients who are living in different health care settings. They are also one of the most in demand healthcare providers in the country, today. So if you're thinking about becoming one, then we suggest that you should know what the requirements are.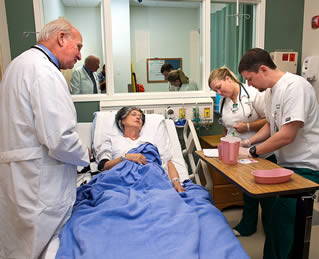 The first thing that you'll need to do is to look for a training institution or school that offers CNA training. Because of the high demand for the profession, there are now a lot of facilities that are offering Nursing Aide Training. When looking for one, just make sure to enroll in a course that is approved by the state's Board of Nursing.
Approved training programs consist of at least 75 hours of training. However, the majority of the programs offer more than the required number of hours. These hours are divided into theory and supervised clinical practice. Students are taught about the basic nursing skills and procedure as well as different concepts that they might use when taking care of the patients. They will learn about safety and emergency procedures, interpersonal skills, communication techniques, and many more.
All nursing aide students are fingerprinted upon enrolling in a training program. The fingerprinting will be used for the mandatory federal and state criminal background checks. The checks are done for the general protection of the patients. No student is allowed to handle any patient without undergoing the background checks.
Once you are through with your training, the next step is to apply what you've learned and take the National Nurse Aide Assessment Program exam. The NNAAP exam is divided into a multiple-choice knowledge test and a practical skills exam. If a candidate passes both tests, then his name will be entered into the Nurse Aide Registry.
The Nurse Aide Registry – or simply called the NAR, is the master list that contains all the names of nursing aides who have met the federal and state training and testing requirements. Only people whose names are found there are allowed to work in a state-certified nursing facility as nursing aides.
To avoid jeopardizing your name on the NAR, you'll need to keep your record updated. You must inform the BON if you change your name or address. You can inform them by calling them at (804) 367-4569. You can also visit www.dhp.virgina.gov and get a copy of the Request for Change Name/Address form.
This is a town that is situated in Accomack County. It has a total population of 496 people, during the last census. Onley has a total area of approximately 0.8 sq miles, and where all of it is land. Its population density is estimated to be around 607.9/sq mile.
Health care facilities that you can find in the area include G & G Treatment Center, DDC- DNA Diagnostics Center, Nurse Advantage, Rite Aid, Bundick Len J DR DC, Drs. Savage, Sabol & Visser, Ltd., Bruce Bosworth DDS, Riverside Shore Healthcare At Home, and Intrepid USA. photo attribution: codnewsroom