The nursing assistant classes that are being offered in Oak Ridge, Tennessee as of the making of this post are all available here. Training must be recognized by the State of TN in order to qualify one to take the license exams. Call to speak with a representative to get more information about their requirements and how to enroll.
NHC Healthcare
300 Laboratory Drive,
Oak Ridge, TN 37830
(423) 482-7698
According to the Nursing Home Reform Act, all aspiring nursing aides must be properly trained and be listed in a Nurse Aide Registry. One is required to take an approved class course and pass the state license exams to become certified to work. The state of Tennessee requires its CNAs to attend class instruction that provides 75 hours of training as well as clinical hands-on experience and course work. During your instruction you will learn 25 specific skills you will need to know on the job and to pass the state competency exam.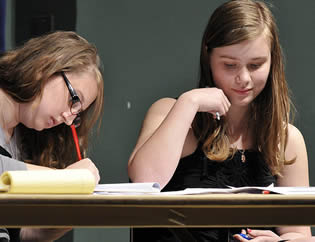 The test that you will take will have a written and a skills demonstration part. You must pass both parts to be able to get your license. During your exam you will be tested on 5 of the 25 fundamental health care proficiencies you learned. Those who pass the test are added to the nurse aide registry for 24 months. To get additional information about your status on the registry, verify a school program or receive help with your certification requirements you can contact the Tennessee Nurse Aide Program Office by calling (615) 532-5171
The Nurse Aide Registry (NAR) is a list that contains information on the nursing aides who have met the federal and state training and testing requirements. There are generally two ways to get into the NAR in Tennessee. One is by challenging the certification exam and the other is by applying for reciprocity.
Reciprocity
This route is only available to those who are already certified as a nursing aide in another state's NAR. When applying for reciprocity the applicant must have a valid certification and a clean record. Applicants who are listed in the Abuse Registry will not be approved. Nursing aides who are found in the Abuse Registry means that they have records of patient abuse, neglect, misappropriation of a patient's property, and other offenses. To protect the patients, applicants must also pass the national background check for criminal records to be accepted.
With the exception of some states, applicants accepted through this process will immediately get into the NAR without the need for additional training and/or testing. Applicants coming from Florida and North Carolina are required to complete a Tennessee-approved training program and take the competency exam. Those coming from Georgia will only need to challenge the competency exam to get into the NAR.
Testing
If you have never been certified as a nursing aide before, then this is the only way for you to get into the NAR. The certification exam in this state is handled by the Headmaster Testing Service. It is an exam that is divided into two parts – a written/oral exam and a random clinical skills evaluation. All testers are required to pass both parts to gain entry into the NAR.
Completing the application forms (http://www.hdmaster.com/testing/cnatesting/tennessee/tnformpages/tnforms/1101TN.pdf)) is part of the application process. On the forms you will be asked to check your eligibility route. The best ways to become eligible is to complete a state-approved CNA program, complete military training as a medic or corpsman, or enroll and/or complete a Nursing program.  Once you complete the forms, please send them with your payment to:
D&S Diversified Technologies
PO Box 418
Findlay, Ohio 45839-8367
You can also fax your application to (419) 422-8367. If you fax your forms you will have to pay an additional fee of $5.
When you get into the NAR and become certified, you must find work for at least 8 hours in a certified nursing facility to be eligible for renewal. CNAs are required to renew their certification every 2 years. Upon renewal, you will have to show proof of employment in the form of a stub, a notarized letter from your employer, or a printout of the payroll. If you fail to renew your certification, you will not be allowed to renew and your certification will expire. No nursing aide is allowed to work with an expired certification.
This city is a part of both Roane and Anderson Counties. Oak Ridge is located in the eastern part of the state and is about 25 miles from Knoxville. Parts that fall under Anderson County belongs to the Knoxville Metropolitan Area, while those that belonged to Roane County is included in the  Harriman, Tennessee Micropolitan Statistical Area. Collectively, this city has a total population of 27,387 people during the census of 2000. It has an estimated total area of 89.9 sq miles and a population density of 320.1/sq mile. Oak Ridge is also known as the "Atomic City" and the "Secret City".
Health care providers that are ready to serve you in Oak Ridge include Oak Ridge Medical Clinic, NHC Healthcare Oak Ridge, Owen Health Care Pharmacy, Briarcliff Health Care Center, Ayurveda Center for Natural Healthcare, Parkway Sleep Disorder Center, Thompson Cancer Survival Center At Methodist, Wellness Place At Methodist, Area Counseling Services, MMC Wound Treatment Center, and many more. photo attribution: westconn