Certified Nursing Assistant training programs in Oak Hill, West Virginia that are shown here offer all the state recognized courses available for enrollment. to receive further information about taking classes toward your certification, call to speak with a school representative.
Hidden Valley Health Care
422 23rd Street,
Oak Hill, WV 25901
(304) 469-8255
Working as a nursing aide means working under the supervision of registered nurses and other members of the health care team. With the passage of the Nursing Home Reform Act, all aspiring nursing aides are now required to undergo proper training and certification before working in a state-approved health care facility.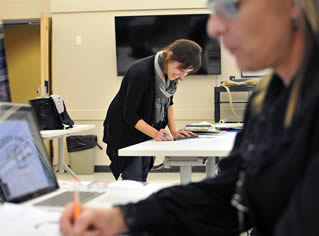 To ensure that you receive education and training that meets both federal and state standards you'll need to enroll in a program that's approved by the state. Due to the number of individuals who wish to become nursing aides, you can now find a multitude of programs offered by various training facilities such as hospitals, nursing homes, assisted living centers, community colleges, private training centers, technical and vocational schools, and other training and healthcare institutions.
Training programs in this state are required to offer at least 120 hours. These hours consist of 65 hours of classroom and laboratory instructions and 55 hours of supervised clinical practice. All programs must last at least 4 weeks of continuous training. During the clinical portion of the program the students are handled by qualified clinical instructors.
Completing an approved training program is a requirement to qualify for the State Competency Exam. Taking this examination is the final step in becoming a long-term nursing aide. It consists of a written/oral test and a skills evaluation exam. If a candidate passes both tests, the candidate's name will be added to the West Virginia Nurse Aide Registry.
The NAR consists of all the names of individuals who were able to pass the federal and state training and testing requirements. Employers will always check each of their applicant's certification on the NAR before hiring them. Only those individuals whose names are on the Registry are given a CNA certification.
You can keep working as a long-term nursing aide if your certification remains valid. To keep it active/valid a nursing aide must renew it every 2 years. Holders are required to provide proof of employment within the last 2 years. If a CNA is unable to meet the requirements for re-certification, then he will no longer be allowed to continue working.
The city of Oak Hill is a part of Fayette County. It is the main city of the Oak Hill, WV Micropolitan Statistical Area. The earliest settlers came around the 1820s. As of the last census, their total population was estimated to be about 7,589 residents. It has a total area of 4.8 sq miles and a population density of 1,570.9/sq mile.
Examples of health care providers and centers that are located in the area include Plateau Medical Center, Plateau Clinic, Hidden Valley Center, Jafary Medical Clinics, Oak Hill Medical Clinic: Maducdoc Jr Serafino S MD, Ashley B. Poland, PT, Division-Rehabilitional Services, and Petersen Clinic Pllc. photo attribution: ufv