The nursing assistant training schools in Smyrna, Georgia that are open for enrollment are all here on this page. To learn more about their program to help you receive your certification, you can call the number to speak with a program administrator.
Advanced Professional Nurses, Inc.
3320 South Cobb Drive,
Smyrna, GA 30080
(404) 915-3347
Medix School
2108 Cobb Parkway,
Smyrna, GA 30080
(770) 980-0002
Metro Medical Training Center
1184 Concord Road SE, Suite 5,
Smyrna, GA 30080
(770) 437-1250
Website: http://www.metromtc.net/
To become a nursing assistant, you must comply with the different requirements of the state. The first thing that you must do is to finish a Nurse Aide Training Program. If you finish a state-approved program, you will become eligible to apply for the CNA license exams. To make sure that you will be eligible when you finish, you must choose a training program that is approved by the Georgia Medical Care Foundation. These programs can be found all over the state. They are offered by technical colleges, high schools, nursing homes, and community training centers. The benefit of choosing this career is that the training can be completed within 6 months, depending on the program you select.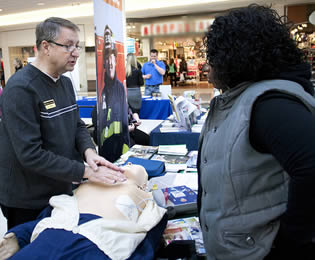 If you are already working as a nursing assistant in a facility like a nursing home, you will be required to complete your training and take the license exams within 4 months from the start of your work. The state does not allow any individual to work for more than 4 months, unless they have completed the necessary training and have taken the license exams.
CNA license holders from other states may also work in this state by applying for reciprocity. When they apply, their license should still have an active status. Those who are applying for reciprocity are also subjected to both the federal and the state background checks. It is also important that the applicant should have a good relationship with their state.
All who become certified and included on the nurse aide registry will need to maintain their status there. This is done by submitting verification of time spent on the job. At this time one must work at the minimum, one eight hour shift to renew there certification. There is currently no renewal fee.
This city is situated in Cobb County. It is included in the Atlanta-Sandy Springs-Marietta, GA MSA. According to the census of 2010, their total population had reached up to 51,271. It has a total area of 16 sq miles, where all of it is land. Its population density is estimated to be around 3,200/sq mile.
The Emory-Adventist Hospital at Smyrna and the Ridgeview Institute are two of the largest employers in the city. Other health care centers that you can find there include National Health Services, Premier Infusion, Progressive Behavoral Health Services LLC, Atlanta Behavioral Care, Pediatria Healthcare for Kids, and The Brownstone Project LLC. photo attribution: codnewsroom