For the person who wants to become certified these are the nursing assistant training classes available in Sikeston, Missouri. By enrolling in one of these programs you will learn the basic skills required to care for patients in a long term care facility. Courses listed here are registry authorized and will help you prepare for the licensing exams.
Sikeston R-6 Career And Technology Center
135 Plaza Dr Suite 201
Sikeston, MO 63801
573 472-8887
http://www.sikestonr6.org/education/district/district.php?sectionid=1
For most who desire to become certified as a nurse aide it is important to join a state recognized instruction program to learn the basics. Classes will help teach you how to perform the skills used during your employment. You will receive hands-on practice using these skills and learn the theoretical knowledge required to make proper health care decisions while on duty. Currently classes will offer at least 75 hours of theory training and 100 hours of on the job training.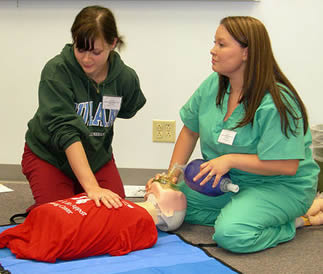 Challenging the CNA license exams is the only way for you to get your name entered on Missouri's Nurse Aide Registry. Only once your name is on the list will you get your  certificate and be allowed to work as a nurse aide in a LTC facility.
Before you are allowed to take the exams, you will need to submit to the Registry first the different requirements. You will be asked to provide proof of your completion of a state-approved training program and social security number. Nursing students may also apply by submitting a copy of their transcripts showing that they took up and passed the Fundamentals of Nursing and their clinical rotations.
The license exams are composed of two parts: a written exam and a skills evaluation on the basic nursing skills. In order to get your certificate, you must be able to pass both exams. Those who underwent proper training are given 2 additional chances to pass. After failing for the third time, the applicant must then undergo retraining before he will be allowed to take the exams again.
This city is a part of both Scott County and New Madrid County. You can find this city situated north of the Missouri Bootheel. Major roads that you can find near the city include Interstate 55, Interstate 57, and U.S. Route 60. It was founded back in 1860 and was named after John Sikes.  According to the 2010 census, their total population is now at 16,318. It has a total area of 18.1 sq miles and a population density of 947.4/sq mile.
The major hospital serving the area is the Missouri Delta Medical Center, which was founded in 1948. Other health care centers that you can find in the area include Senior Lifestyles, Senior Health Care Solutions, Foot & Ankle Centers of Southeast Missouri, Sikeston Urgent Care, Extended Health Services, and First Choice Family and Occupational Clinic. photo attribution: niels_olson