The nursing assistant schools located in Shelby, North Carolina that are offering training approved by the North Carolina Department of Health and Services that are currently open for enrollment are all shown to you on this page. Qualified applicants who manage to complete their studies can go on to take the certification exams to become licensed to work.
Cleveland Community College
137 S Post Rd
Shelby, NC 28152
(704) 484-4000
(Multiple classes are available)
Diversified College of Health Care LLC
1427 East Marion Street,
Shelby, NC 28150
(704) 471-2777
To work as a nursing assistant in the state of North Carolina, you will need to gain entry into the Nurse Aide I Registry. One way of getting into the Registry is to take the license exams. The license exams were developed to test whether the nursing assistant candidates are capable of taking care of the residents. The state's Department of Health and Human Services (DHHS) has contracted with Pearson VUE to help in conducting, scoring, and showing the results of the exams.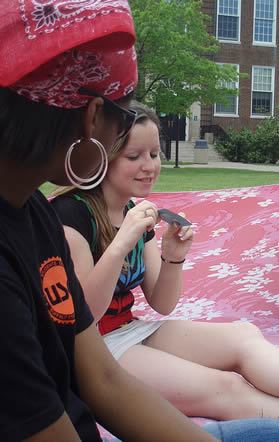 The exams consist of a 70 item multiple-choice written exam and a skills evaluation of 5 randomly selected nursing skills. Those who have trouble in written English may take an oral exam, which is offered in both English and Spanish. These exams may only be taking at approved testing sites. This may be a regional testing site or a training program that was approved to conduct in-facility testing.
When applying to take the exam, you will have to indicate whether you will be taking the exam at a regional testing site or in a training facility approved to conduct the tests. During application, you will also need to indicate that you are a first time taker, which means you will be taking both portions of the exam. Since every candidate is allowed to take the exam up to 3 times, those who failed are allowed to retake the portion which they failed in. If you have trouble in filling out the application, you can download a copy of instructions from http://www.pearsonvue.com/nc/nurseaides/schedule/.
Every applicant is given a maximum of 2 years from completing their training to pass the exams. While waiting for the scheduled date, a nursing assistant candidate who was able to complete a N.C. CNA training program may temporarily work in a nursing facility. This condition is only valid up to 4 months.
The results of the exams within 10 minutes after the tests are faxed by the evaluator for scoring.  If you have questions about your Score Report, you can contact Pearson VUE at (888) 204-6207. Please remember that for security purposes the results of the exams will not be discussed over the telephone.
You can contact the state Nursing Registry by calling (919) 855-3969; alternatively you can write them at:
N.C. Nurse Aide I Registry
2709 Mail Service Center
Raleigh, North Carolina 27699-2709
This small city is the county seat of Cleveland County. According to the 2010 census, their total population was at 20,429 people. This city has a total area of approximately 18.2 square miles. Its population density is 1,073.8/sq mile.
Examples of health care centers that you can find in the area include Piedmont Behavioral Healthcare, Cleveland Physical Therapy Associates, Radar Concepts LLC, helby Surgical Associates PA, RHA Health Services, Preferred Choice Healthcare In, Healthy@Home, STD Test Express, and many more. photo attribution: create-learning