CNA Classes in Roy, Utah that are listed on this page are all the certified nursing assistant classes that are open for enrollment. Those included in the list are all approved by the state of Utah Nursing Assistant Registry. Call the phone number listed below for more information about class schedules, certification requirements, or tuition rates.
ROY HIGH SCHOOL
2250 W 4800 S
Roy, UT  84067
1-801-476-3600
(Offered to high school students only)
The Nursing Home Reform Act aims to provide patients better quality care from their healthcare providers. To help meet this goal, all aspiring nurse aides are now required to undergo state-approved training and get certified before working full-time as a CNA.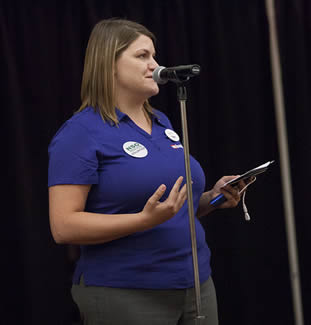 Where to get CNA Training
Programs are offered by numerous training institutions and schools. You can find approved programs offered through the following:
•    Hospitals
•    Nursing homes
•    Community colleges
•    Vocational schools
•    Technical colleges
•    Government organizations
•    Private training facilities
What you can learn in a CNA program
Nursing assistant training in this state lasts for about 80 hours. Like all other states, these hours are divided into both lectures and supervised clinical practice. Students are taught numerous procedures and concepts such as the following:
•    Infection control
•    Mental health
•    Vital signs
•    Proper body mechanics
•    Communication skills
•    Safety and emergency procedures
•    Nutrition
•    Personal care
•    Basic nursing procedures
•    Death and dying
Qualifying for the National Nurse Aide Assessment Program Exam
Completing an approved CNA program will make you qualified to apply for the NNAAP exam. Taking the NNAAP exam is the final step in becoming a nurse aide. If you pass all the tests, your name will be added to the state's NAR.
Registered nurses, LPNs, nursing graduates, and nursing students who completed one semester of nursing school within the last 2 years are also allowed to apply for the exam. When they apply they will be required to provide proof of training and education.
The NNAAP exam
The NNAAP exam is divided into two parts – the written test and the skills tests. Both of these tests are taken on the same day, so testers are asked to plan their day accordingly. The state has asked the help of the Headmaster Testing Company due to the number of aspiring nurse aides.
Each candidate is given 3 attempts to pass the tests. These attempts are only valid within a year after finishing a state-approved training program. If a candidate fails to pass within those attempts or within the given year, he or she will be required to complete another program.
This city is situated in Weber County. You can find this city just along Interstate 15. It is also included in Ogden–Clearfield, Utah Metropolitan Statistical Area. According to the latest census, their total population was 36,884 people. It has a total area of approximately 7.6 sq miles and has a population density of 4,853.1/sq mile.
Examples of health care centers that you can find in the area include Intermountain Clinics, Rock Run Medical, Intermountain Healthcare – Herefordshire, Herefordshire Family Physician, Utah Digestive Health Institute, MountainStar Medical Group, Riggs Brannick Md, Zavala, Jeff, and many more. photo attribution: codnewsroom