The nursing assistant schools offering training in Leesport, Pennsylvania are listed in detail here. Classes are being provided by colleges, high schools, and community training centers that are located in the area.
Berks Career and Technology Center
1057 County Road,
Leesport, PA 19533
(610) 374-1273
Berks County Home Berks Heim
1011 Berks Road,
Leesport, PA 19533
(610) 376-4841
A person needs to be certified to work in any state-certified nursing facility in the Commonwealth of Pennsylvania. You can only get certified if your name is on the state's Nurse Aide Registry. This registry contains all the names of individuals who were able to meet the federal and state's training and testing requirements. Only these individuals are allowed to work as long-term CNAs.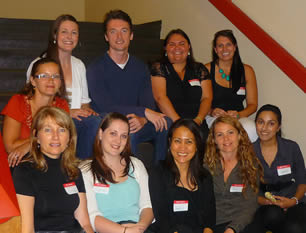 For those who have never been certified nurse aides before, the only way for them to get on the Nurse Aide Registry is by taking the National Nurse Aide Assessment Program Examination or NNAAP exam. This exam consists of two parts, which involves a written (or oral) test and a practical skills test. Both tests must be passed to get into the NAR. The NNAAP exam is only available for individuals who have received the proper training and/or have met the necessary requirements for application.
Training is required before you can take the CNA tests in Pennsylvania. Instruction is required to include both hands-on skills experience in a clinical environment as well as theoretical class course work and lectures. Classes are also required to be pre-approved by the PA Department of Health and prepare you for taking the license exams. To find testing locations nearby you can call the American Red Cross at 1-800-795-2350. Additionally you can get the latest requirements of the nurse aide registry by calling Pearson VUE at 1-800-852-0518.
Eligibility
There are several different ways to establish eligibility for the NNAAP exams. To qualify for application, a candidate must only meet one of the following:
–    Complete an 80 hour nurse aide program that is approved by the Pennsylvania Department of Health.
–    Complete an RN or LPN program that is approved by the Department of Education and get a letter of authorization to take the test.
–    Have an expired certification that was issued by the PA-NAR that has not expired for more than 2 years.
–    Have an expired certification that was issued by another state that has not expired for more than 24 months.
Applicants who have expired/lapsed certifications are only allowed to take the exam once. If they fail at least one exam, they will have to start all over and complete another CNA program before they can apply for the NNAAP exam once again.
Application Process
The exams in this state are conducted by Pearson VUE; however, the scheduling and applications are handled by the American Red Cross. Applicants may get the right application forms by either calling the ARC at (800) 795-2350 or by going to www.pearsonvue.com. All applications must be sent, along with the payment of $102, to:
American Red Cross
1804 North Sixth St.,
Harrisburg, PA 17102
Testing Fee
All first time applicants are required to include a payment of $102 for both parts of the exams. This payment must only be in the form of a company check, cashier's check, or money order. Cash, personal checks, or payments made through credit cards will not be accepted. Payment must be included when submitting the forms in order for them to be processed.
The CNA Candidate Handbook
This handbook contains detailed information regarding the NNAAP exam. The majority of questions that you may have can be answered by this book. The handbook also contains sample exams which you can practice on, and application forms. If you don't get one from your training program, you may contact the ARC and request one or download it from www.pearsonvue.com.
If you are a nursing graduate from a different state you are still welcome to work in Pennsylvania as nursing assistant if you so desire. Through the reciprocity program you may not be required to enroll in a CNA training program for you to apply for the state exams. This rule is also applicable to those that have finished military training as a medic.
Leesport is a borough that is located in Berks County. According to the census of 2010, their total population had reached up to a total of 1,918 people. The total area of Leesport is approximately 0.8 sq miles, where almost all of it is land.
Examples of health care centers and providers that are found in the area include Schuylkill Valley Family Practice PC, Quickcare-The Reading Hospital Medical Group, Makatche Timothy DO, Tuke Gregory MD, Easy Does It Inc., Worknet Occupational Medicine, Berks Leisure Living, Arbogast Medical Legal Consulting LLC, and many more. photo attribution: ufv