The certified nursing assistant training in Ketchikan, Alaska that are shown on this page offer the most up to date certification classes that are open for enrollment. If you know other programs that are approved by the state, please contact us and we will add them to the page.
UAS Ketchikan at Robertson/Hamilton Technical Ctr.
600 Stedman St.
Ketchikan, AK 99901
Contact: Wendy Gierard
wendy.gierard@uas.alaska.edu
800-550-6177
With the high demand health care personnel in Alaska, it is not that hard to find a job as one. One of the fastest ways for you to enter health care is to become a CNA. Getting a nurse aide license in this state will be one of the best decisions you can make since nursing assistants are treated well in here. Alaska is one of the states that offer the highest pay rate of nursing assistants.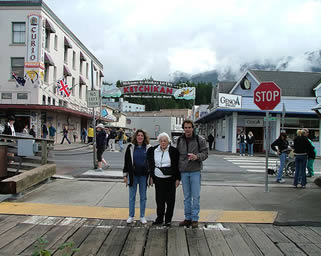 To get your nursing assistant certification in the state of Alaska it is a requirement to take a state approved training program. The program you select must provide at least 140 hours of combined classroom and clinical instruction. The classroom instruction portion needs to offer 60 hours of teaching and the clinical portion needs to offer 80 hours of experience in a health facility environment. Typically instruction is conducted over a 2 to 6 month time period.
The city of Ketchikan is a part of the Ketchikan Gateway Borough. It is considered as the most sizable city in the southern area of Alaska. With a total population of 8,050 people during the 2010 census, it is considered as the 5th most populous city in the state. The city is also known as the "Salmon Capital of the World". It has a total area of 4.1 sq miles and has a population density of 2,245.5/sq mile.
Health care centers that you can avail within the city include Community Connections Inc., Ketchikan Public Health Center, A Woman's Place Inc., Southeast Surgical Clinic, Peacehealth Psychiatry, Triwest Healthcare Alliance, Ketchikan Chiropractic Center, and Gateway Center for Human Services. photo attribution: denverjeffrey