The certified nursing assistant training open for enrollment in Hutchinson, Kansas is listed below. The list includes all the available registry approved certification courses that are open as of the making of this post. Call the facility to get details bout the latest class offerings.
Hutchinson Community College
815 North Walnut, Hutchinson, KS 67501
(620) 665-3551
http://www.hutchcc.edu/
Good Samaritan Society
810 East 30th Ave., Hutchinson, KS 67502
(620) 663-1189
http://www.good-sam.com/
By being a nursing assistant, you get the basic exposures of the health care industry. You get to take care of patients with the use of the basic nursing skills that you have learned in the training program. Most nurse aides assist the patients with maintaining their hygiene, their rooms, nutrition, and offering support and advice to the patient's families.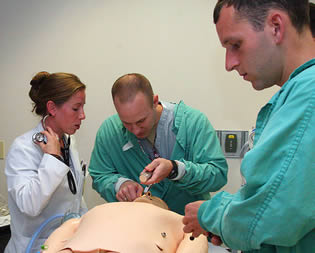 The state of Kansas requires all aspiring nursing assistants to enroll in a state-certified CNA program. These programs will teach the candidates the proper knowledge and skills that they will be using to properly take care of the patients/residents. It will take about 8 to 13 weeks to complete these programs. Even though each of the programs will have different requirements upon enrollment, the state says that you must have a high school diploma or something equivalent to it to enroll in one.
After graduating from the program, the next step is to take on the license exams. The applicant must be able to pass the exams to get his/her name entered in the Nurse Aide Registry. The state does not allow any nursing assistant to work if his/her name is not in the Registry.
Once it is there, the applicant will need to maintain that status in order to remain eligible for work. CNA licenses in this state need to be renewed every two years. To renew it for free, you must have worked for at least 8 hours with pay during that time.
This is the county seat of Reno County. Founded in 1871, it was named after "C.C." Hutchinson, who was an Indian Agent. It is also called as "The Salt City" or simply "Hutch". You can find this city a few miles northwest from Wichita. With a total area of 21.2 sq miles and a total population of 42,080 residents during the 2010 census, they are the largest city in the county. They have a population density of 2,000/sq mile.
Health care providers that are in the city include Frederick Chiropractic Center, Hutchinson Clinic, Cohoon Kinesiology & Chiropractic Wellness Center, Surgery Center of South Central Kansas, Pinnacle Sports Medicine & Orthopedics, Webb Chiropractic Center PA, Care 2000 – Home Health Care, Arthritis & Rheumatology Clinics of Kansas, Horizon's Mental Health Center Community Services, Center for Hope-Child & Family Counseling, Promise Regional Same Day Surgery Center, Buehler Chiropractic Center, and Deseret Healthcare. photo attribution: armymedicine