The educational facilities offering nursing assistant training in the town of Hamlet, North Carolina are available below. For more information about how to get started, tuition rates, school curriculum, or program schedules, feel free to call the number provided.
Richmond Community College/Main Campus
1042 West Hamlet Avenue, Hamlet, NC 28345-4522
(910) 410-1891
http://www.richmondcc.edu/
(Multiple classes are being offered here)
The best opportunities to enter the medical field today lie with those who are pursuing a career as a nurse aide. Not only is the training fast and affordable, the salary that a nurse aide makes in a year is also good. The mean salary that a new nurse aide makes in an hour is around $10.64. With the high demand all over the country, new graduates do not have problems looking for jobs after being certified.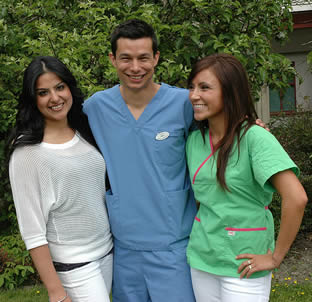 If you want to become one, you will have to meet both the federal and state's training and testing requirements. The first step to become a nurse aide is by enrolling in a state-certified training course. These courses will give you the education and training you need to function properly as a nurse aide. Since this profession is very in demand, you it is offered in different training institutions including high schools.
Completing a state-certified training program will make you eligible to apply for the competency exam, which is conducted by Pearson VUE. There are also other means of becoming eligible for the exam, such as graduating from a nursing educational school, but the benefit of completing a state-approved CNA program is that you will be allowed to work for a maximum of 4 months while you wait to get your certification. If you get hired during that time, your exam fees will be paid by your employer.
The competency exam consists of a written test and a skills evaluation. You must pass all the tests within three attempts and within 2 years of completing your training. If you fail to do so, you will be required to undergo retraining.
Once you get your nurse aide certification, you will be able to enroll in advance certification programs, which are only available to those who are listed on the Nurse Aide I Registry. If you want to further your skills and knowledge as a nurse aide, you can become a nurse aide II. This will involve additional training and passing anther competency exam.
If you want to specialize in the care of the elderly, you can enroll in a geriatric aide training program. There is no competency exam that you must pass to be in the Geriatric Aide Registry. As soon as you complete the program, your instructor will add you to the registry. Your record on the NAR will also be updated. You can find a complete list of approved training programs by following this link: http://www.ncdhhs.gov/dhsr/hcpr/pdf/gatprograms.pdf.
This town can be found in Richmond County. It has a total population of 6,018 at the last census. The town of Hamlet has a total area of approximately 5.14 sq miles, where all of it is land. Its population density is 1,192.4/sq mile.
Health care centers and providers that you can find in the area include The Sandhills Medical Group Orthopedics, Dialysis Care of Hamlet, Richmond Pines Healthcare & Rehabilitation Center, Sandhills Regional Medical Center, McQueen Medical Center, Sandhills West Main, Brown Marshall DR, Veasy George D DR, Nascimento Luiz MD, Tarheel Family Medicine PA, and many more. photo attribution: ufv