The nursing assistant training found in Fairfax, Virginia at this time is shared below. Those who join the program as students will get skills experience in a medical setting as well as theoretical instruction.
Columbia College, Inc.
8300 Merrifield Avenue
Fairfax, VA 22031
(703) 206-0508
Health Care Educators
10301 Democracy Lane Suite 100-a
Fairfax, VA 22030
(703) 273-9191
Star Institute
8550 Lee Highway Suite 400
Fairfax, VA 22031
(703) 560-7701
Looking for a way to start a career in healthcare? Well look no further. The answer to your search is nursing assistance. Certified nursing assistants are entry-level professionals, and are important members of the healthcare team. They assist nurses in providing nursing care to patients who are in different healthcare settings.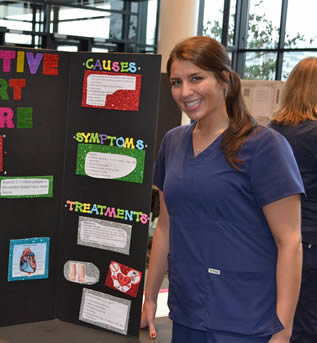 What do you need to become a CNA?
Two most important requirements are receiving proper training from a state-approved training facility and taking the certification exam. As you try to meet these two requirements, you'll also be subjected to physical and medical tests, as well as criminal background checks with fingerprinting.
CNA Training Programs
Nursing assistant training in Virginia complies with the minimum 75-hour training duration requirements of the OBRA. Like any other program, their curriculum is divided into theory and practical training. Both the classroom and practical training are done at the same time.
During the entire training program students are handled by qualified instructors. They are not allowed to perform any procedure that hasn't been taken up during the lectures. They also aren't allowed to perform any procedure without the knowledge of their instructors.
Requirements to get into a CNA program
Each training facility has its own requirements to be accepted into their program. However, they do have similar requirements such as the following:
–    Age: must be at least 16 years old
–    English Competency: must understand and speak Basic English
–    Education: the majority of the training programs in Virginia only require their applicants to be able to read and write. However, there are some that require a high school diploma or a GED certificate.
–    Health: must be physically and mentally healthy to take care of different patients.
Taking the Certification Exam
After you complete your training, the next step is to apply for the certification exam and take it. Taking this exam is a final step in becoming a nursing assistant. The certification exam consists of two parts – a written (or oral) test and practical skills test. If you pass both of them, then you'll receive a CNA certificate. Having the certificate will prove that you were able to meet the federal and state's training and testing requirements. It will also show your potential employers that you are a competent nursing assistant.
This city is and independent city and is the county seat of Fairfax, VA. It is included in the Washington Metropolitan Area. According to the census of 2010, their total population was around 22,565 people. It has a total area of about 6.3 sq miles and has a population density of 3,581.7/sq mile.
The Fairfax Nursing Center and Inova Care Center are two of the largest employers in Fairfax. Other health care facilities that you can find in the city include Fairfax Prince WM Hematology Oncology, PRO Healthcare Servicing LLC, Prime Medical Center, Physician Health Services, Vsn Profesional Healthcare, and many more. photo attribution: codnewsroom