The available CNA Classes in Davis, California are seen on this page. Call the phone number below for more details like nurses aide training requirements, tuition costs, and program requirements. If you know other certified nursing assistant classes in the city, send them to us so we can add them to our list.
Davis Adult School
315 West 14TH ST.
Davis, CA 95616
(530) 757-5380
If you want to work in California as a nurse aide, you must get a CNA certification. Getting a certification will prove that you are a competent nurse aide in terms of both skill and knowledge.  The Aide and Technician Certification Section of the L&S Program is responsible for issuing nurse aide certifications in the state. If you do not have a background in the field of medicine, then the only way for you to get certified is to challenge the state's certification exam.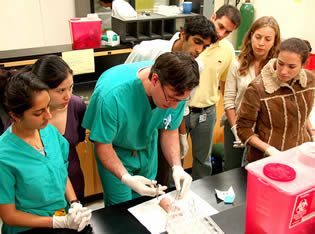 The certification exam is properly known as the National Nurse Aide Assessment Program examination or NNAAP exam. This examination was created to set a standard for nurse aides throughout the United States. It consists of a multiple-choice knowledge test and a practical skills evaluation, which are both taken on the same day. Candidates are given 2 hours to answer all 70 multiple-choice items for the knowledge test and 25 minutes to perform the 5 randomly selected nursing procedures in front of a nurse aide evaluator.
All those who wish to take the NNAAP examination are required complete a program that is approved by the California Department of Public Health. The best way to establish eligibility to apply is by completing a 150-hour CNA course. Those who enrolled in nursing education programs and military training as medics can apply for the exam, but they must first contact the CDPH at (916) 327-2445 to determine eligibility.
The state has authorized Pearson VUE to help schedule, conduct, score, and release the exam results. If you visit their website at www.pearsonvue.com you can get your own copy of the Candidate Handbook, which contains detailed information about the exam. You can also visit their site to get a complete Skills List and a sample exam for the knowledge test.
Candidates who pass all the tests are certified by the ATCS. If there are no technical problems, the results of each exam are released on the same day. If you pass all the tests, you can expect your CNA certificate to arrive at your mailing address within 10 business days after passing.
Employers will only hire those who are certified by the ATCS. Before they hire any potential employee, they will first verify the applicant's certification by contacting the CDPH or by going to http://www.apps.cdph.ca.gov/cvl/SearchPage.aspx. You can also visit the link if you wish to check your status as a nurse aide.
This city is part of Yolo County. It is also part of the e Sacramento–Arden-Arcade–Roseville Metropolitan Statistical Area. As of the latest census, their population has now reached up to 65,622. It has a total area of 25.690 km2 and a population density of 2,554.4/km2. You can find this city west of Sacramento, north-east of San Francisco, a few mile north of Los Angeles. Major roads located along the city include Interstate 80 and State Route 113.
The Sutter Davis Hospital and the Sierra Health Care Center are considered two of the largest employers in the city. Other health clinics in the city include Omnibus Mental Health Associates, Allergy Davis Medical Group, Sutter West Medical Group, Communicare Health Centers, Talley Forrest Ph.D. Pediatrics Care Center Uc – Medical Group, and Woodland Healthcare – Davis Medical Office. photo attribution: departmentofed