The nursing assistant training classes in Compton, California are provided in the list below. The list includes schools and programs that are both facility-based and non-facility based. If you have any questions just contact the number provided.
Compton High School
601 South Acacia St
Compton, CA 90220
(310) 635-3881
C.U.S.D.Dominguez High School
15301 San Jose Avenue
Compton, CA 90221
(310) 639-4321
Chester Adult Center
1104 East 148th Street
Compton, CA 90220
(310) 898-6470
Compton Community College
1111 East Artesia Boulevard
Compton, CA 90221
(310) 900-1600
Compton ROP – Centennial High School
700 North Bullis Road
Compton, CA 90221
(310) 763-5718
The Omnibus Budget Reconciliation Act requires all nursing aides who wish to work in a state-approved nursing facility in the U.S. to have proper training and certification. This will help ensure that the patients will only receive top quality care from their healthcare providers, especially from nursing aides.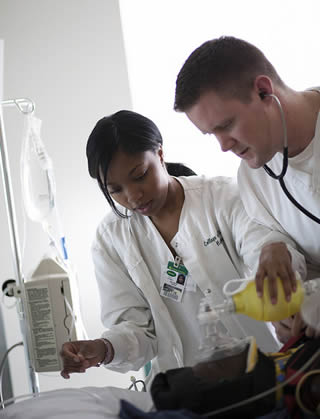 As a nursing aide, you will be working closely with the patients. Since each patient has his or her own set of needs, it is important that you equip yourself with the proper knowledge and skills needed to meet those needs. The best way to do this is to enroll in a CNA program that is approved by the Department of Public Health.
You can find these programs offered by hospitals, nursing homes, long-term care facilities, assisted living centers, community colleges, government organizations, and many more. To enroll you must be at least 18 years old; be physically fit and free of communicable diseases; have a high school diploma or a GED certificate; pass the national background checks for criminal records; and be able to understand and speak Basic English.
As a student you will spend a minimum of 50 hours in the classroom and 100 hours in the clinical area for your supervised practical training. Both the classroom and clinical training are done at the same time, but before you go to the clinical area you must first learn the following concepts:
•    Respecting the Patient's Rights
•    Medical and Surgical Asepsis
•    Safety precautions
•    Emergency Care
•    Promoting Patient's Independence
•    Communication and Interpersonal Skills
Most of the training programs in this state can be completed within 2 to 6 months. As soon as you complete your training you can then apply for the certification exam, which is conducted by Pearson VUE. Registered nurses, licensed practical nurses, medics, and nursing students and graduates are also allowed to apply for the certification exam.
This exam consists of a written/oral test and a skills evaluation exam. Candidates must pass both tests in order to get certified. The exam results are normally released within 10 minutes after faxing the tests to get scored. If there are some technical problems then the results will be mailed to the candidates' addresses within 2 weeks.
This city is located in the southern part of Los Angeles County and is just southeast of downtown L.A. Compton is one of the oldest cities within the county and ranked eighth in being incorporated. The latest Census has revealed that the population of the city has now reached up to 96,455. Neighborhoods in the city include Sunny Cove, Leland, Downtown Compton, and the Richland Farms.
Health clinics within the city include Los Angeles County Mental Health Services – Compton Family Mental Health Center (310) 668-6800, Compton Central Health Clinic (310) 635-7123, Los Angeles County Health Care Centers – Dollarhide Health Center (310) 763-2244, Galacare Medical Clinic (323) 566-6911, St Francis Family Health Centers (310) 761-8461 and the E & V Adult Day Healthcare Inc. (310) 537-6291. photo attribution: codnewsroom