The college facilities currently available for student enrollment of nursing assistant training in Burnsville, North Carolina can be seen below. If you have any questions about their certification preparation courses, just call the school phone number provided below.
Mayland Community College – Yancey Campus
107 Wheeler Hills Rd, Burnsville, NC
(828) 682-7315
http://www.mayland.edu/
A nursing aide is an individual who is trained to give basic nursing care to the patients while under the supervision of a registered nurse. The increase in the elderly in the population has created an increase in demand for nursing aides. This is considered to be one of the best ways to start a career in the medical field because of its practicality.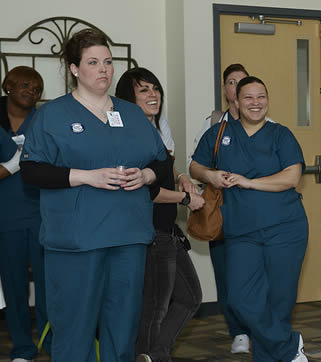 Before you can work as a nursing aide, it is important that you know how to function as one. Your best option is to train and complete a N. C. -approved training program. These programs will teach you a wide array of concepts such as patient care, infection control, safety, emergency care, communication skills, patients' rights and independence, and many more. Approved programs are required by the state to offer a minimum of 75 hours of training. These hours will comprise of theories and practical training.
By completing a state-certified training program, you can now apply for the competency exam. This exam will test you in both skills and knowledge. If you pass the written/oral test and the skills evaluation, you will get into the Nurse Aide I Registry and get certified.
While waiting to take the exams, you will be allowed to work as a nursing aide for a maximum of 4 months. This is only possible if your training program and the nursing center have an agreement that the program will take the responsibility of their student's actions.
The Nurse Aide I Registry is a complete list of the names of the individuals who were able to meet the federal and state's training and testing requirements. Only those whose names are on the registry will be allowed to work as a nursing aide. This list includes RNs, LPNs, CMAs, and NAs II.
Your listing on the Registry is only valid for 2 years. If you wish to remain eligible for work as a nursing aide, you will need to renew your certification. Renewal of certifications in North Carolina is free of charge. To be eligible for renewal, you must have had worked for at least 8 hours as a paid nursing aide while under the supervision of a registered nurse. You can follow this link for more nursing aide FAQs: https://www.ncnar.org/faq.html#anseight.
This city is the county seat of Yancey County. It has a total area of about 1.6 sq miles, where all of it is land. Its population according to the census of 2000 was around 1,623. It has a population density of 1,028.0/sq mile. This town was founded back in March 6, 1834, and was named after Captain Otway Burns, a naval hero.
Health care centers and providers that you can find in the city include Graham Children's Health Service, Cane River Middle School Health Clinic, Blue Ridge Medical Centers, Celo Health Center, Yancey County Rescue Squad, Yancey County Health Department Cap Program, Maxim Healthcare, and many more. photo attribution: westconn