All the nursing assistant training programs that are listed here are available for enrollment in Apple Valley, California as of the moment. For more information about their program, please contact the program administrator from the number below.
Apple Valley HS ROP
11837 Navajo Rd.
Apple Valley, CA 92308
(760) 247-7206
A person can only work as a nursing aide if he is listed on the Nurse Aide Registry. The Registry is a master list of all individuals who were able to meet the federal and state training and testing requirements. To get into the NAR you must pass all the tests of the National Nurse Aide Assessment Program Examination.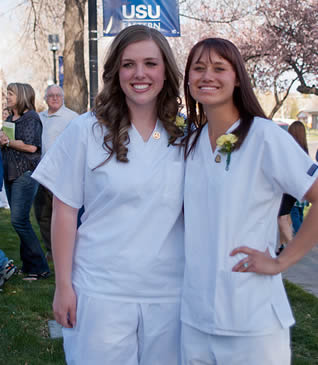 The NNAAP exam is a two part examination that consists of a written/oral test and a clinical skills evaluation. Candidates are given 2 hours to answer all the multiple-choice questions on the written/oral test and 25 minutes for the skills exam. If a candidate fails in one test, he can immediately reapply and retake the test that he failed.
Before you can take the NNAAP exam you must first apply for it. You can only apply if you can complete a state-approved training program. CNA programs in California offer 150 hours of training. The hours are divided into 50 hours of lectures and 100 hours of clinical practice. As a nurse aide student, you will learn the fundamentals of nursing as well as the basic nursing skills like catheter care, vital signs taking, NGT feeding, and emergency procedures. You will have all the things needed in order to face different situations in the healthcare area. While in the area, you will be under the supervision of a trained healthcare team member, commonly a registered nurse.
Because of the high demand for nursing aides, a number of institutions and schools are now offering nursing aide training. When searching for a program to enroll in, you must only enroll in a program that is approved by the Department of Public Health. You can call the Training Program Review Unit at their phone number of (916) 552-8873 to verify a programs validity.
Registered nurses, licensed practical nurses, military-trained medics, nursing students and graduates can apply for the NNAAP exam without any need for further training. To determine if they are eligible to apply, they must call the ATCS at (9160 327-2445.
The results of the exams are normally released on the same day. If your name is entered into the NAR, you can expect your CNA certificate to arrive at your mailing address within 10 days after passing. You can use your certificate to show proof that you are a competent nursing aide.
Names in the NAR remain for only 2 years. To keep your name on the Registry you will need to renew your certification. A notice is sent out by the ATCS at least 4 months before your certification's expiration. To be eligible for renewal you must work for at least 8 hours and complete 48 hours of in-service training/CE.
If your name is removed from the NAR, you will lose your eligibility to work in an approved nursing facility. If you want to continue working as a nursing aide, you can reactivate your certification by taking a competency evaluation exam. For more information, please follow this link: http://www.cdph.ca.gov/certlic/occupations/Documents/How-to-Renew-Your-Cert.pdf.
Apple Valley is a town that is situated in Victor Valley of San Bernardino County. You can find Victorville and Hesperia to the east of here, and Barstow at its south. According to the latest census, their population has now reached up to 69,135 people. They have a total area of 73.523 sq miles and a population density of 940.3/sq miles.
There are a lot of health clinics that you can find in this city. Examples of some of them include Meridian Urgent Care and Occupational Health Center, Aspen Medical Clinic, St Mary Medical Center, High Desert Cardiopulmonary Medical Group Inc., Guardian Medical Group, Desert Behavioral Health A Family Counseling Corp, and Atlas Health Clinic. photo attribution: kkleinrn