Nursing Assistant training classes that are available in schools located in Valley City, North Dakota are all listed here. Those who meet the qualifications and complete the program in its entirety will be allowed to set a license exam date. Speak with a facility director for further information about the process to receive your certification through the state registry.
Sheyenne Care Center
979 Central Avenue North,
Valley City, ND 58702
(701) 845-8222
http://www.sheyennecarecenter.com/
To become a true nursing assistant, you will have to get yourself certified. This can only be done if your name is on the Nurse Aide Registry. For those who do not have any background in healthcare, the only way for them is to pass the license exams, which are conducted by Pearson VUE at approved testing centers.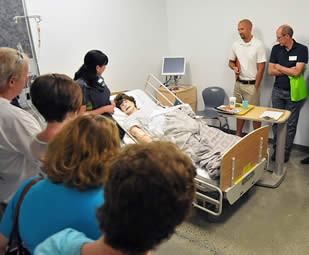 Before you can take the exam, you will have to apply for it and one of its requirements is a certificate of proof that you were able to complete the necessary training course that was approved by the state of North Dakota. Due to the high demand for this profession, you can find that these programs are offered by community technical colleges, private training centers, hospitals, nursing homes, and even online. State-approved programs are required to offer no less than 75 hours of training, which can be completed within 1 to 2 months.
The first part of the license exam is the written exam, which is composed of 70 items of multiple-choice questions. Ten of those questions are pre-test items and are not included in the scoring. If you requested to take the oral exam, you will have to answer a total of 70 items of multiple-choice questions, which 10 of those are not pre-test items but are reading and comprehension. Even applicant is given 2 hours to answer all the questions.
The second part of the exams is the skills evaluation. In this part, you will be given an instructions card which will contain 5 randomly selected nursing skills that you will have to perform within 25 minutes in front of a nurse aide evaluator. One of the five skills will always be hand washing while the other one out of the four will be a measuring procedure. You can get a list of the skills that may be tested by downloading a copy of the Candidate Handbook from this link: http://www.asisvcs.com/publications/pdf/073500.pdf. To pass this part, you must perform all the skills satisfactorily.
Once your name is on the Registry, you will be allowed to work long-term as a nurse aide for 2 years. You can also start to pursue a higher certification such as a medication assistant certification if you want. A medication assistant certification and other advance certifications like home health aide certification will require you to have an active status when you enroll in their programs. Once you complete your training, you will then have to take your respective license examination.
The state of North Dakota is very open when it comes to nursing assistants that come from other states. If they wish to work in the state, they will need to apply for reciprocity. When applying they should still be a nursing assistant with an active license. They should also have a good relationship with the state they come from. The applicants will also be required to submit some documents that prove their training and experience.
This city is the county seat of Barnes County. The city is nicknamed as the "City of Bridges" due to the number of bridges that are found over the Sheyenne River. With a total population of 6,585 residents during the last census, they are the 12th biggest city in the state. They have a population density of 1,902.6/sq mile. The total area of the city is estimated to be around 3.46 sq miles, all of it is land.
Examples of health care centers that are found in the area include Essentia Health-Valley City Clinic, Central Avenue Chiropractic PC, Pain Relief Center, Foell Chiropractic Clinic, Dakota Clinic, Innovis Health, Meritcare, and many more. photo attribution: ufv