The nursing assistant facilities that are enrolling applicants for classes in Smithfield, North Carolina are all shown to you in detail in the list below. Those who qualify and finish a state approved course can go on to schedule a date to try and pass the certification examination.
Johnston Community College
245 College Rd, Smithfield, NC 27577
(919) 934-3051
http://www.johnstoncc.edu/
(Multiple classes are being offered)
A nursing assistant is an individual who works hand-in-hand with registered nurses and the medical team in taking care of the patients. They help by providing nursing and nursing-related procedures that are delegated to them by registered nurses. According to the Nursing Home Reform Act, before a nursing aide candidate is able to work in a long-term care facility, he must first get certified.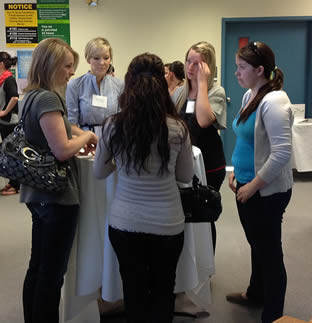 The certification process in North Carolina begins by being eligible to take the NNAAP exam. You can be eligible to take the exam if:
•     You completed a N.C. nursing assistant I training program within the past 2 years.
•    You completed a CNA training program in a different state that still meets the federal government's training requirements.
•    You completed at North Carolina-approved refresher course.
•    You completed a nursing education program within the state of North Carolina.
Once you establish your eligibility, the next step for you is to complete your application for the exam online (https://i7lp.integral7.com/durango/do/login?ownername=ncna&channel=ncna&basechannel=integral7). If it is your first time, you will have to create an account by filling out the required fields. Since the system is now online, you can now pay using a credit or pre-paid credit card. For those who already have an account but were not able to register for the exam within 2 years, they will need to create another account.
The first part of the exam is the knowledge tests, which is a 70 multiple-choice written test. The written exam also has an oral version, which is offered in either English or Spanish. The second part is the skills demonstration. To get your name on the Registry and your CNA I certification, you must pass both parts of the exam.
Your certification is only valid for 24 months. To continue to work, you must renew it before it expires. An individual cannot work as a nursing assistant with an expired license. Renewal in this state is free. All you need is to complete the renewal application form and provide proof that you were able to get 8 hours of "qualified" work during the last 24 months.
This small town is the county seat of Johnston County. According to the 2010 census, their total population was at 12,965 people. It has a total area of approximately 11.4 sq miles and a population density of 1,007.6/sq mile.
The Johnston Medical Center is the major hospital that is currently serving the city. Other health care centers that you can find in the area include Wake Nephrology Associates PA, Polley Clinic Of Dermatology & Dermatologic Surgery, Nova Urgent Medical Care, Male Medical Clinic, Universal Mental Health, Coordinated Health Services Inc., Q 1 Clinical Consultants, Children's Development Agency Service, and many more. photo attribution: ufv