All of the certified nursing assistant schools available for enrollment in Rocklin, California are listed below. If you know other approved classes in the city, send them to us and we will add them to the list.
Sierra Community College
5000 Rocklin Rd.
Rocklin, CA 95677
(916) 624-3333
Website: http://www.sierracollege.edu
Nursing aides are found in almost all healthcare settings. You can find them working in hospitals, nursing homes, assisted living centers, long-term care centers, rehabilitation clinics, and even in the client's own homes. This is one of the many reasons why they are very much in demand in the United States. Because of this demand the number of people who want to become nursing aides is continuously increasing.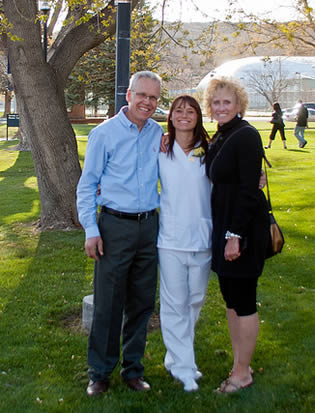 What You Need to Become a Nursing Aide in California
You cannot work in California as a nursing assistant without a nurse aide license. The most important steps in getting a license are completing a training program and pass the competency exams. Federal and state laws clearly state that only certified nursing aides are allowed to work in a state-approved healthcare facility. To get a CNA certification, you must do the following:
•    Complete a state-approved NATP
•    Pass the national background checks for criminal records
•    Pass the National Nurse Aide Assessment Program examination (NNAAP exam)
Nurse Aide Training Programs
NATPs are offered through different institutions like nursing homes, long-term care centers, community colleges, government organizations, private schools, vocational and technical colleges. They offer 150 hours of training, which includes both classroom instructions and supervised on-the-job training.
During your training you will learn many basic tasks such as: range of motion exercises, bed making, toileting, feeding, transporting patients, recording vital signs (Blood Pressure, Pulse, Temperature, and Respiration), bathing, infection control, catheter care, safety procedures, and dressing. During the exam you must demonstrate five of these skills in a live health care situation.
Although each program has its own requirements, the general requirements to be accepted into one includes the following:
•    Be at least 18 years old
•    Understand and speak Basic English
•    Have a high school diploma or a GED certificate
•    Be free of any communicable diseases like TB
•    Be physically capable of taking care of patients
Criminal Background Checks
Because of the number of drug-related incidences in different healthcare settings, mandatory background checks are now required for all aspiring nursing aides. If you are considering a career as a nursing aide, it is important that you have a clear record. The criminal background checks are done at both federal and state levels. Students are required to get fingerprinted and undergo the checks prior to the start of the clinical rotation. No student is allowed to go to the clinical area without passing the background check first.
National Nurse Aide Assessment Program Examination
The NNAAP exam is conducted with the assistance of the Pearson VUE Testing Company at approved testing centers. The exam initially consists of a 2-hour written test and a 25-minute clinical skills evaluation. If you have trouble reading English, you can request to take the oral version of the written test. You will still be given the same amount of time to answer all 70 multiple-choice questions.
If you are not sure of what test to take, you can go to www.pearsonvue.com and take a Self-Assessment Reading Test. You can also download a copy of the Candidate Handbook, which also contains this test as well as other useful information.
To get certified you must pass all the tests within 3 attempts and within 2 years after completing your training. If you fail to meet the two conditions, you will be required to complete another 150-hour NATP. To learn more about the exam of becoming placed on the nurse aide registry you can contact the California Department of Public Health please at (916) 327-2445.
Rocklin is a city that is found in Placer County, CA. It is situated in the metropolitan area of Sacramento. The cities near it are Roseville, Loomis, and Lincoln. The current census states that its population is now over 56,974. It also has a total land area of 19.541 sq miles.
There are plenty of health care clinics that are situated within the city. Examples of these clinics/ centers include Mercy Medical Group (916) 409-1400, Horizon West Healthcare Inc. (916) 652-0442, STD Test Express (916) 234-3691, Renal Advantage (916) 625-9028, Sunrise Health Medical Group (916) 771-0234, Baur Julie DO (916) 632-7606, and Amn Healthcare Inc. (916) 624-1800. photo attribution: kkleinrn