Schools that offer nursing assistant instruction in the town of Reed Springs, Missouri can be located on this page. By enrolling in a training course you'll meet the requirements of the state registry and be allowed to take the license tests. You should talk to an administrator of the facility to learn more.
Gibson Technical Center
336 W State Hwy 76,
Reed Springs, MO 65737
417 272-3271
The best way for you to gain entry into the medical field is by becoming a nursing aide. This type of profession is best suited for those who love to help other people without thinking too much on the financial rewards. However, the occupation can be a great way to get your start in the health care occupation and gain experience to advance.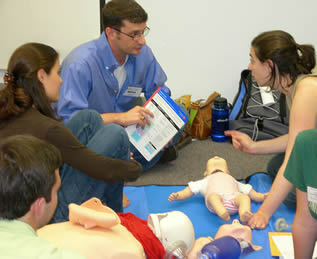 Training to become a nurse aide does not take very long depending on the course you enroll in. Programs are required to offer a specific amount of minimum hours of instruction. At this time this is 75 hours in the classroom learning basic health care theory, and 100 hours of on the job skills practice in a medical environment similar to that found in a hospital or nursing home. Classes will prepare you for the two part examination which must be passed in order to receive your certification.
By becoming a nursing aide, not only do you get the best basic experience in the field, but you also gain the opportunity to achieve higher degrees. If you want to do so, you can choose to become a certified medication technician or get an insulin administration certificate. To get it, you must enroll in another state-approved program. To get a CMT certificate, you must be a CNA with an active status for at least 6 months. You must also:
1.    Be at least 18 years old.
2.    Have a high school diploma or a GED
3.    Not have a Federal indicator/marker or be on the state's employment disqualification list.
4.    Pass specific portions of the TABE, which is given by the sponsoring school of the course.
If you pass the exams, you are allowed to give medications for up to 60 days so long as the facility you are working in has a copy of your scores that show you passed. Medication technicians from other states may also work in Missouri by applying first for reciprocity.
This city is a part of Stone City. Aside from that, it is also part of the Branson, Missouri Micropolitan Statistical Area. According to the census of 2000, their last estimated population was at 465 people. This city has a total area of approximately 0.6 sq miles, where all of it is land. Its population density is 735.9/sq mile.
Despite having a low population count, they do have a lot of health care providers in the area. Examples include Stone County Emergency Services, Stone County Health Center, Skaggs Community Health Center – Skaggs Specialty Clinic, Branson West Medical Care, Ferd Wise Ph.D., and Chiropractic Health & Rehab DR Jan Doty. photo attribution: niels_olson