The nursing assistant schools that have been recommended by the state registry and are available in Maryville, Missouri are listed below. These courses are currently available for student enrollment and will qualify one to take the license examination. Call the facility to find out more details.
Northwest Tech School
1515 S Munn Ave, Maryville, MO 64468
660 562-4181
http://www.nts.maryville.k12.mo.us/
All aspiring nursing aides are required to enroll in a state-certified training program.Programs are available to students who are at least 18 (or enrolled in a high school vocational program), free of any disqualifying convictions, and not on the MO Department of Health and Senior Services employee disqualification list.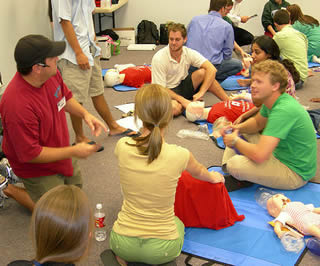 The class will teach you the fundamental health care instruction to properly provide basic care for patients under the general supervision of a registered nurse. Course include 75 hours of classroom coursework and 100 hours of clinical task experience in a medical setting. Once you complete your training, you will then become eligible to take the license exams afterwards. For those who are currently working as an uncertified nursing aide, they must be able to pass the exams within 4 months from the start of their work.
The license exams are composed of a written and a skills evaluation exam. In order to get your name on the Registry, you must be able to pass all the tests. The applicants who were able to get authorization from the office to take the exams without CNA training are only given one try to pass the exams. If they fail, then they will need to enroll and complete a course before they are allowed to take the exams again.
Applicants that challenged the exams after completing a training program are allowed to retake the exams up to two times if they fail on their first attempt. If the examiner allows it, the applicant may immediately take his fail exam on the same day that he received the results.
Maryville is the county seat of Nadaway County. It is also a part of The Maryville micropolitan statistical area.  It was first established as a town back in February 14, 1845. The city was named after Mrs. Mary Graham, who was the wife of the county clerk at that time. She was the very first Caucasian woman to have lived within the boundaries of the site of the city.  As of the 2000 census, their total population has reached up to 10,581. Its total area is 5.1 sq miles and has a population density of 2,074/sq mile.
Health care centers that you can find in the area include St Francis Family Life Services, St Francis Family Health Care, Alford Pamela LCSW, The Care Clinic, Advanced Chiropractic Center, Nodaway County – Health Center, and many more. photo attribution: niels_olson