The certified nursing assistant schools in Hollywood, Florida that you can find on this page offer the most up to date licensed classes that are open for enrollment. For more information about enrolling in training in the city of Hollywood, please call the number below.
Hollywood Hills High School
5400 Stirling Road
Hollywood, FL 33021
Institute of Allied Health CNA Course
4350 West Hollandale Blvd., 4th Floor
Hollywood, FL 33023
(954) 967-8594
Pines Vocational Training Institute, Inc
6067 Hollywood Blvd. Suite 300
Hollywood, FL 33024
954-367-6733
Sheridan Technical Center
5400 Sheridan Street
Hollywood, FL 33021
754-321-5480
You cannot become a nurse aide in this state if you do not have a CNA certification. To get one, your name must be entered in the states' Nurse Aide Registry. It will only be entered there if you pass the state's competency exam and get your license. The competency examinations of Florida are being handled by Prometric.  There are different requirements that must be met before you will be allowed to take the exams. The most important among them are the completion of a training program that is approved by the state and passing the federal and the state background checks.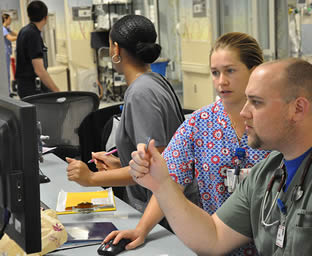 To complete a training program, you must have at least 75 hours of theoretical lessons and 100 hours of hands-on skills training. Most programs can be completed within 6 months, more or less, depending on the program you enroll in. While still a student, you will have the opportunity to experience what it is really like to work with different patients and healthcare team members. You will be taught in various skills like assisting in ambulation, ROM exercises, catheter care, bed bath, assist in feeding, dressing, bathing, and other daily activities of the patients.
If you already have a nurse aide license, you can apply through endorsement. You will no longer be required to take Florida's license exam. Your requirements for this application are submitting a copy of your certification, exam results, and the results for the background checks that are done at both federal and state levels. You can call (850) 245-4125 the phone number for the Florida Nursing Assistant Registry for any additional questions you may have about certification requirements.
This city can be found in Broward County. It is included in the South Florida metropolitan area. It is considered as the 12th largest city in the state of Florida. According to the census of 2010, their total population was around 140,768 pople. It has a total area of approximately 30.80 sq miles and has a population density of 5,156.3/sq mile.
Health care centers that you can find in the area include Margolis Michael Doctor of Osteopathi, American Health Associates, American Health Services of Broward Inc., Family Behavioral Health, Resolute Health Care, Psychology Associates PA, General Practice Associates Referral Line, Gentiva Health Services, South Florida Hospital & Healthcare Association, and many more. photo attribution: medilldc