The nursing assistant schools that are recommended by the state registry and available for enrollment in Elkhorn, Wisconsin are listed on this page. Contact the school using the phone number on this page for details such as class schedules, tuition rates, and state certification requirements.
GATEWAY TECHNICAL COLLEGE
400 COUNTY RD H
ELKHORN, WI 53121-
(262) 741-8304
www.gtc.edu/healthcareers/nursingassistant
To become a certified nursing assistant in Wisconsin, you'll have to undergo proper training. To ensure that patients receive only quality care by learning the knowledge and skills needed to do so before actually handling any patient.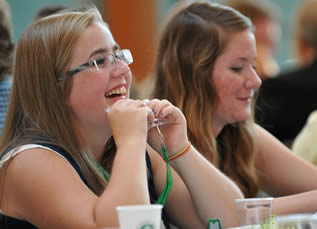 The most common way of learning how to become a nursing assistant is by enrolling in a state-approved CNA program. Nursing assistant training curriculum consists of both theory and practical training. Approved training programs are required to offer no less than 120 hours of training, of which 32 are allocated for practical training while under the supervision of a registered nurse. Depending on the program you choose, it can take you about 8 to 24 weeks to complete your training.
Completing an approved program is a requirement to qualify for the certification exam. Although it might be the most common, it isn't the only way. A military personnel who were trained as either a medic or a corpsman may also qualify for the exam. To qualify, the personnel must complete the following courses:
–    The Aging Process
–    Basic Nursing Skills
–    Basic Rehabilitative Skills
–    Death and Dying
–    Communication Techniques
–    Infection Control
–    Care of Mentally Challenged Patients/Clients
–    Respecting the Residents Rights
–    Safety and Emergency Care
–    Personal Care
The interested applicant must also have at least 32 hours' worth of hands-on clinical experience. You can find out more about this by following this link: http://www.dhs.wisconsin.gov/publications/p0/p00225a.pdf.
The certification exam in Wisconsin is conducted by the American Red Cross with the assistance of Pearson VUE. The exam consists of a multiple-choice knowledge test and a skills evaluation exam. This exam follows the provision of the Americans with Disabilities Act. A candidate who has a disability may request for special accommodations when taking the exam by submitting this form: http://www.dhs.wisconsin.gov/forms/f0/f00386.pdf. Candidates are required to pass both tests in order to gain entry into the NAR and receive a CNA card.
Employers will always check the names of their applicants before hiring them. According to the law, only certified nursing assistants, or NAs whose names are listed on the Registry may work as long-term nursing assistants in a Medicaid/Medicare nursing facility. If you wish to check your status as a certified nursing assistant, you may do so via http://www.asisvcs.com/services/registry/search_generic.asp?CPCat=0750NURSE
The city is the county seat of Walworth County. It is situated a few miles southwest of Milwaukee and northwest of Chicago. According to the latest census, their total population was around 7,305 people. It has a total area of approximately 7.3 sq miles and has a population density of 1,005.2/sq mile.
Examples of health care centers and providers that you can find within the city area include Eye Physicians & Surgeons SC, Bartz Chiropractic Office, Froderman Tim MD, Aurora Health Center, The Optical Shoppe, Doctors Clinic of Elkhorn, Aurora Lakeland Medical Center, Grossman Thomas Jr MD, Mittal Prabhas MD, Elkhorn Family Clinic, and many more. photo attribution: ufv