If you want to attend nursing assistant school to receive your certification in Douglasville, Georgia you'll find the programs available listed below. For more information about their course schedules, tuition rates, and enrollment details, please call the number below.
Covenant Medical Training Institute
5833 Stewart Parkway, Suite 103,
Douglasville, GA 30135
(770) 949-1306
Website: http://www.covenantmedtraining.com/
Assured and Associates Personal Care of Georgia
8336 Office Park Drive,
Douglasville, GA 30134
(678) 391-0140
http://www.assuredandassociates.com/
West Georgia Technical College
4600 Timber Ridge Drive,
Douglasville, GA 30135
(770) 947-7200
http://www.westgatech.edu/
If you are planning on becoming a nursing assistant, you should know what the different requirements are.  By doing so, you can make it easier for you by preparing the different requirements early on. Among the different requirements, the most important of them are the completion of a training program and passing the federal and state background checks. The training programs are offered by different institutions like colleges, high schools, and nursing homes. You can find the programs scattered all over the state.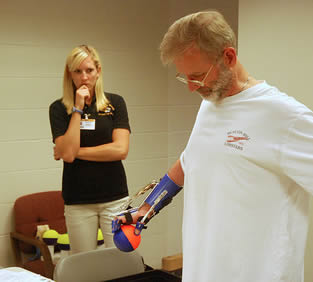 To ensure that you will receive the proper and high-quality training, you choose a program that is approved by the GMCF. It is very important that the graduates of the programs meet the hiring requirements of the Medicaid healthcare facilities. They should also be able to adjust and adapt to any healthcare setting.
After the training programs, the next step is to take on the nurse aide license exams. If you pass all the tests in the license exam, your name will be entered in the state's Nurse Aide Registry. You should maintain this status if you wish to be able to apply for long-term work as a nursing assistant in any healthcare facility.
This city is the county seat of Douglas County. It is located about 29 miles west from Atlanta. It is also included in the Atlanta Metro Area. A major road that you can use to get to Douglasville is Interstate 20. According to the census of 2010, their total population was 30,961. It has a total area of 21.5 sq miles and has a population density of 948.5/sq mile.
Examples of health care providers whose services you can avail in the city include Hyland Lynn James MD FACS, Psychological Recovery Services, Healthqwest LLC, Zibraz Medical Services Inc., Watl Behavioral Specialist, Armstrong Maricellis H MD, Care Immediate PC, and Douglasville Psychological Outpatient Services. photo attribution: komunews