The currently available CNA classes in Cerritos, California are provided below. If you know any other nursing assistant programs that are in the city, you can send them to us so we can add them to the list.
Nurses Development Center, Inc.
17100 Norwalk Blvd.; STE-105
Cerritos, CA 90703
(562) 403-2115
Certified nurse aides are a valuable part of the healthcare team. They help nurses take care of patients by providing basic and routine nursing procedures such as vital signs taking, changing bedpans and soiled linens, and assist in the patient's daily activities.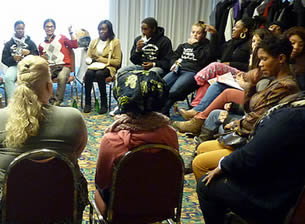 Since nurse aides work closely with patients throughout the day, it is important that all aspiring nurse aides receive proper training from a state-approved training program. The Department of Public Health is responsible for certifying and monitoring all CNA programs in California. You must only enroll in a program that is approved by the CDPH.
To qualify you will be required to pass state and federal background checks, go through a physical exam, and submit photo I.D and immunization records. For more information about their prerequisites, you can call the Public Health Licensing & Certification program at (916) 552-8700.
Approved programs are headed by qualified CNA Instructors. The programs offered no less than 50 hours of classroom lectures on different nursing concepts and 100 hours of practical training in the clinical area. Prior to the start of the clinical rotation, students first sped 16 hours learning about medical and surgical asepsis, communication and interpersonal skills, safety precautions and emergency procedures, basic nursing care, roles and responsibilities of a nurse aide, and patients' rights and independence.
To work as a nurse aide in a state-certified healthcare facility, you must get certified by the Aide and Technician Certification Section. The best way to get certified by the ATCS is to challenge the National Nurse Aide Assessment Program exam. The NNAAP exam consists of a 70-item knowledge exam and a clinical skills test.
Candidates will only get certified by passing all the tests. If a candidate fails in one part of the exam, he must reapply for the NNAAP exam and retake the test that he failed. Candidates are only given 3 attempts to pass. If a candidate fails his 3rd attempt he will be required to recomplete another 150-hour CNA program before he can reapply.
According to the Bureau of Labor Statistics, a certified nurse aide can earn from $7 to $15 an hour. This is greatly affected by the place of work, experience, and other factors. To find out how you can further your knowledge and skills, please call the CDPH at (916) 327-2445.
This city was formerly known as Dairy Valley due to its abundance in dairy farms. It is still part of Los Angeles County and has a population of 49,041. The city has about 8.9 square miles of total area. You can find cities like Bellflower, Lakewood, Norwalk, and Santa Fe Springs near here.
The top employers in the city also include the College Hospital which has over 500 employees working for them. Other health clinics in the area include Newhope Medical Clinic, Wildwood Medical, Lindora Medical Clinic, Pioneer Home Health Services I, Pioneer Medical Group Inc., Home Care Link Health Services Inc., and Pacific Coast Health Systems. photo attribution: create-learning