The nursing assistant schools open in Cedar City, Utah that are approved by the state and are available for enrollment as of the making of this post are all listed on this page. For more information about their course curriculum, cost of tuition, certification requirements, or program schedules, feel free to call the number below.
SWATC
510 W 800 S
Cedar City UT 84720
435- 586-2899
Website: http://www.swatc.edu/
To become a nursing assistant in Utah, you must meet several of the federal and state requirements. You can only work as a nursing assistant in the state if your name is on the state's Nurse Aide Registry and if you are certified.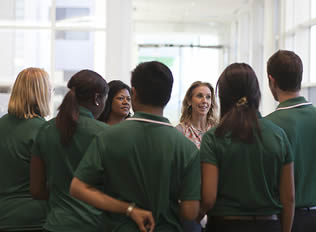 Here are the requirements to become a certified nursing assistant in Utah:
•    Be at least 16 years old
•    Successfully complete a state-approved 80-hour nurse aide program
•    Pass the national background checks for criminal records
•    Pass all the tests of the National Nurse Aide Assessment Program examination
•    Be physically capable of taking care of a patient
CNA training
Nursing assistant training in this state consists of 80 hours of classroom training and supervised clinical practice. Both the clinical and classroom trainings are taught at the same time. All programs are required to be headed by a licensed nurse with at least 2 hours of supervised clinical practice. Students will learn about different nursing concepts such as infection control, safety and emergency procedures, communication skills, basic nursing care, and many more.
National Nurse Aide Assessment Program Examination
The NNAAP exam in Utah is conducted by Headmaster at approved testing centers throughout the state. The exam is divided into two parts – a written test and a skills evaluation exam. Unlike other states, where you must request for an oral exam, the written test in Utah already comes with audio. Instead of requesting for an oral exam, candidates can request for a pencil and paper test.
Nurse Aide Registry
Those who are able to pass both the written and skills test will have their names added to the NAR. Once their names are entered they will be allowed to work as certified nursing assistants in state-approved healthcare facilities for 2 years.  To keep their eligibility, they must work as paid nursing assistants for at least 200 hours to qualify for renewal.
Applying for Reciprocity
The process of reciprocity is only applicable to certified nursing assistants from other states. This lets them take the exam without the need for any additional training. To be eligible they must have a current certification and a clean record. They must not have any records of patient abuse, neglect, or misappropriation of the patient's property.
This city can be found in Iron County. It is situated about 250 miles south of Salt Lake City. The latest census of the city has shown a total population of about 27,823 people. It has a total area of approximately 20.1 sq miles, where all of it is land. Its population density is 1,021.8/sq mile.  It was founded back on November 11, 1851 and was named after the Juniper ("cedar") trees that you can find in the city.
Health care centers that you can find in the area include Intermountain Cedar City Instacare, Intermountain Cedar City WorkMed, Intermountain Cedar City WorkMed, Southern Utah Surgical Associates, Cedar City Community Clinic, Southwest Behavioral Health Center, Love Healthcare, and Youth Health Associates Cedar Ranch Academy. photo attribution: codnewsroom