The schools that are open for enrollment of nursing assistant instruction in Archdale, North Carolina are shown here. These classes are approved by the state's Dept. of Health and available for enrollment as of the making of this post. If you have any questions about their admission guidelines, program curriculum, classroom schedules, or the tuition fees, please call the number below.
Randolph Community College/Trinity Campus
110 Park Dr,
Archdale, NC 27263-8504
(336) 633-0248
http://www.randolph.edu/
Proper education and training is always a fundamental part of something that you want to do properly. That is why if you want to become a nursing aide, especially in North Carolina, you must enroll in an approved CNA training class. In this class, you will spend a minimum of 75 hours attending classroom lectures and going on clinical duties. Completing a training class will prepare you when you take on the NNAAP examination that was developed by the NCSBN.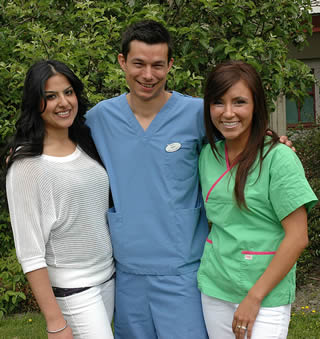 Financial aspects of training can be a problem for some students to complete the certification process. However, there are several institutions that offer no costs of their training. For example, the American Red Cross Association is an institution that offers free training, and is located all over the state. For those who are not able to enroll in the Red Cross and are enrolled in community colleges, you will not have to worry about the quality of training that you received.
Before a training institution is allowed to handle and training nursing aide candidates, they are required by the state to get certified. One of the requirements for training is that they must follow the curriculum that meets the federal and the state's training requirements. The students must also be instructed by a qualified nursing aide instructor, which is a registered nurse with at least 2 years of experience and had some background on training adults.
The Department of Health and Human Services has contracted Pearson VUE to assist with the conducting, scoring, and releasing of the exam results. The exams are to be taken only at approved testing sites. The NNAAP examination consists of a written/oral exam and a skills evaluation. You must pass all the tests to get your certification.
CNA certifications are only valid for 24 months. To keep your name on the Registry active, you must renew your license before it expires. Expired licenses can no longer be renewed. The CNAs who had their licenses expired will have to undergo retraining and retesting if they want to work as a nursing aide again. To avoid any problems with your notice, you must inform the registry if you changed your name or mailing address. For more information, you can call the NAR at (919) 782-7499.
This city is a part of both Guilford and Randolph counties. According to its latest census, their total population was around 9,014 residents. It has a total area of approximately 7.8 square miles. Its population density is estimated to be 1,151.8/sq mile. This city was once known as Bush Hill but actually began as Quaker settlement. It was named Archdale after John Archdale, an early Quaker governor.
Examples of health care centers that you can find in the area include Sandhills Center Mental Health Developmental (336) 431-0700, Cornerstone Family Medicine At Archdale (336) 802-2070, DDC- DNA Diagnostics Center (800) 681-7524, Archdale Pediatrics (336) 861-2348, Daymark Recovery Services Archdale Center (336) 431-0700, and many more. photo attribution: ufv