The recommended nursing assistant programs in Waunakee, Wisconsin that are listed on this page are all the instructional courses approved by the state. For more information about enrolling in health care skills training, please call the phone number below.
WAUNAKEE MANOR HEALTH CARE CENTER
801 KLEIN DR
WAUNAKEE, WI 53597-
(608) 849-5016
A person is only allowed to work as a long-term nurse aide if he has a CNA certification. To get one, you'll need to gain entry into the Nurse Aide Registry by passing the National Nurse Aide Assessment Program Examination (NNAAP Exam). In the process of getting certified, you will be required to pass a state-approved program, pass the criminal background checks, undergo physical and medical exams, and many more.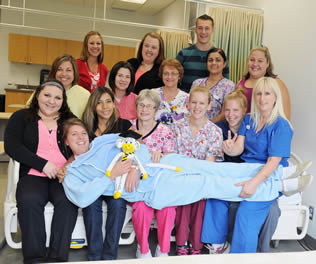 These training programs are found all across Wisconsin. They are offered by various healthcare institutions and schools such as hospitals, nursing homes, assisted living centers, and many more. They are closely monitored by the state to ensure that programs offer proper education and training. Approved programs are required to offer 120 hours of training which 32 of those hours are allocated for clinical training. During the entire training program, students are closely supervised by a qualified CNA instructor.
All nurse aide candidates are required to get fingerprinted and undergo the federal and state criminal background checks. The state requires that these checks must be done prior to enrolling in a CNA program. Candidates must not possess any records such as physical/substance abuse or theft.  Reciprocity applicants are also required to pass the checks to be accepted into the NAR.
The NNAAP exam consists of a 70 item multiple-choice knowledge test and a skill demonstration. Candidates must pass both tests with one year after completing their training. If a candidate fails, he/she is given another 2 attempts to retake and pass. If the candidate uses all three attempts or fails to get certified within one year after training – whichever comes first – then he/she will have to undergo retraining.
Employers will always check each applicant's name on the NAR. A person can work as a certified nurse aide so long as his name is on the Registry. To keep your name on the NAR, you must renew your certification every 2 years. Holders will need to show proof of employment within that time, while under the supervision of a registered nurse.
Pearson VUE will send out a notification to your mailing address at least 60 days prior to your certification's expiration. To avoid jeopardizing your status on the Registry and to ensure that you receive important notices, you must inform the NAR if you ever change your name, address, or social security number. You can do this by visiting their website at www.pearsonvue.com or by calling them at (877) 329-8760.
This is a village that is a part of Dane County. It is also included in the Madison Metropolitan Statistical Area. According to the census of 2010, their total population had reached up to 12,097 people. It has a total area of approximately 6.0 square miles, where all of it is land. Its population density is 1,509.9/sq mile.
Examples of health care centers that you can find in the area include Charter First Operated, Dr. Jennifer Hamilton, Waunakee Area Emergency Medical Service, Bakke Chiropractic Clinic, Martens Joann DDS, Creekwood Assisted Living, Sylvan Crossings At Westshire, Uw Health – Clinics, Meffert Dental Care, Waunakee Chiropractic, and Scientific Protein Laboratories Inc. photo attribution: ufv