The nursing assistant school courses located in Quakertown, Pennsylvania that are open for you to enroll in are shown to you in detail on this page. If you know of other training programs that are state approved, you can contact us and we will add them to the page.
Bucks County Community College Nursing and Allied Health
1020 South Main St.,
Quakertown, PA 18951
According to the OBRA of '87, all nursing assistants who wish to work in a federal nursing facility must be certified. The only way a person can become certified is by entering the state's Nurse Aide Registry. One can gain entry into the NAR either by passing the CNA license exams or by applying for Out-of-State Endorsement.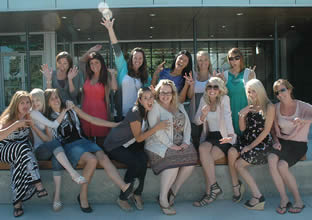 Nursing Assistant Training
Nursing assistant training programs are offered through various health care centers and training institutions all over the state. Completing a training program that is approved by the Pennsylvania State Department of Education is a requirement in establishing eligibility to apply for the license exams. Approved programs in the state are required to last at least 80 hours, which can take 3 to 4 months to complete. These training hours are divided into supervised hands-on training and theoretical coursework; both parts of the training program are taught at the same time.
A person can be exempted from the training requirements if he is a nursing graduate or student nurse who is able to provide proof of education and training. The person must have at least completed one semester of nursing school to qualify. Applicants need to show a copy of their transcripts to the Department of Education to get an Authorization to Test letter. This letter must be submitted along with the application forms.
All application requirements (forms and payments) must be sent to:
American Red Cross
Competency Evaluation Program
1804 N. 6th St.,
Harrisburg, PA 17102
CNA License Exams
Candidates have 24 months after completing their training to pass the license exam. This is a two part examination, which consists of a 2 hour knowledge test and a 30 minute skills exam. Candidates have the option to take the knowledge test as either a written or oral exam. If you are unsure which type of exam you should take, you can assess your reading skills with this exam: http://www.portal.state.pa.us/portal/server.pt/community/nurse_aide_registry/14154/nurse_aide_self_assessment_reading_test/558493.
A candidate must pass both tests to get into the Nurse Aide Registry. Each candidate is given 3 attempts to take and pass the exams. When retaking the license exam, candidates are only required to retake the exam that they failed. If a candidate fails for the 3rd time, then he or she must complete another CNA program before he/she can reapply. When the candidate has rescheduled for another try after training, he must take both parts of the exam, instead of just the part he failed.
Out-of-State Endorsement
The process of reciprocity allows a CNA from another state to transfer his certification to the Pennsylvania Nurse Aide Registry. A nursing assistant must have an active certification and a good reputation upon submitting the application forms. They will also be required to provide proof of their training in the form of school transcripts and work experience. Interested persons will need to contact the Pearson VUE at (800) 852-0512 to obtain a copy of the application form. Those with internet access may go to www.pearsonvue.com and download the forms.
This is a borough that is located in Bucks County. This borough was named after the Religious Society of Friends or Quakers, which were the original settlers of the area. This borough is located just south of Bethlehem and 29 miles north of Philadelphia. As of the 2010 census, their total population had reached up to a total of 8,979 residents. It has a population density of 4,490 / sq mile. The total area of the city is approximately 2.0 miles, where all of it is land.
Examples of health care facilities that are located in the area include Baseline Medical, Saint Lukes Hospital Cardiac Testing Center, Healthcare Management Solutions Inc., Genesis Healthcare, Upper Bucks Surgical Group, Penn Medicine, St Lukes Quakertown Hospital Behavioral Health, Lehigh Valley Health Network – Healthy You Programs, Progressive Physician Associates, Behavioral Health Institute Inpatient Services, Pyramid Healthcare, and many more. photo attribution: ufv