The latest nursing assistant programs provided by faculties located in Panorama City, California are found below. Students who enroll will receive a variety of health care related theoretical and skills training to prepare them for taking the certification exams.
St Jude School of Nursing
8200 Van Nuys Blvd.
Panorama City, CA 91402
(818) 892-6141
California is one of the best states to become a certified nursing aide. It has one of the highest growths in demand for the profession as well as the highest salary rates. According to the U.S. Bureau of Labor Statistics can make from $7 to $15 an hour depending on the working place.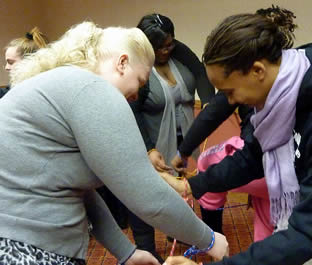 For those who are planning on a career in healthcare as a nurse aide, this is the best time for you to become one due to increasing demand. According to the OBRA of '87 all aspiring nursing aide candidates are required to complete a state-approved CNA training course. Although each course has its own requirements for entering, the following requirements are common to most of them:
• Minimum of 18 years old
• English competency is a must
• Have a clean criminal record
• Have a high school diploma or a GED certificate
• Be physically healthy and free of communicable diseases
CNA training in California is available in different institutions and schools through nursing homes, hospitals, vocational and technical colleges, private institutions, government organizations, and community colleges. Their training consists of a minimum of 50 hours of classroom training and 100 hours of supervised clinical practice.
After completing an approved training program, you can now apply for the NNAAP exam. This is a two part exam that consists of a 2-hour knowledge exam and a 25-minute skills evaluation test. The fee for both tests is $90 (in the form of money orders, company checks, or cashier's checks). If you fail at a test, you are allowed to reapply and retest within 2 years after completing your training. However, if you do not pass within that time, you will be required to undergo retraining before you can apply once more.
There are several different requirements when you apply for the state license exams. The completion of a training program and passing the federal and the state background checks are the most important of them all. Other requirements just include submitting documents like the completed application form, immunization and physical exams you have undergone, proof of your training, and the payment for the exams.
If you pass all the tests, your name will be added to the California Nurse Aide Registry and you will receive a CNA certificate. This certificate will only be valid for 2 years. During that time you must work as a paid nursing aide for at least 8 hours and complete 48 hours of in-service/CE to be eligible for renewal. Your certificate will expire if you fail to renew on time. No individual is allowed to continue working with an expired certificate. To find out how you can reactivate an expired certificate, please follow this link: http://www.cdph.ca.gov/certlic/occupations/Documents/How-to-Renew-Your-Cert.pdf. You can also learn more about certification requirements by calling the California Department of Public Health at 916-327-2445.
Panorama City is a district under San Fernando Valley. It is still part of the Los Angeles County. As of the census done way back in 2000, their population has grown over 65,235. This city is bordered by the Mission Hills, Sun Valley, Van Nuys, and the North Hills.
Health care facilities that are found in the area include Mission Community Hospital (818) 787-2222, Santo Nino Medical Clinic (818) 830-7751, First Choice Health Care (818) 376-0000, Atari Medical (818) 786-9100, Van Nuys Mission Medical Clinic (818) 901-0373, Panorama Professional Medical Group (818) 892-4301, and the Medcare Home Health Services Inc. (818) 785-2152. photo attribution: create-learning