The faculties located in Martin, Tennessee that offer nursing assistant classes are all listed in detail here. If you know of another state approved school listing, please contact us and we will add them to our site.
Van Ayer Manor and Rehabilitation Center
640 Hannings Lane,
Martin, TN 38237
(731) 587-3193
Westview High School Nurse Aide Program
8161 Highway 45 South,
Martin, TN 38237
(731) 587-4202
A nurse aide works under the care of a registered nurse. He helps take care of the patients by providing nursing and nursing-related care to the patients that are delegated by the nurses. The law requires all persons who want to become a nurse aide to be properly trained, certified, and be listed in the Nurse Aide Registry. Employers will only hire nurse aides who are listed in the NAR.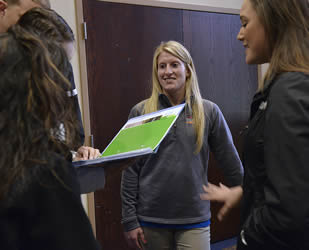 The first step in becoming a nursing assistant in the state of Tennessee is to enroll in a CNA training program. The programs there are being offered by colleges, high schools, nursing homes, and some community training centers. You are required to pass both the federal and state background checks before you can enroll.
The most common way to acquire the necessary training to become a nurse aide is to enroll in a state approved certified CNA program. For a program to be certified, it must offer at least 75 hours of training. When you enroll, you will spend your time in the classroom for lectures and then in the clinical area for the practical training. Even as a student, you will already get the chance to take care of the patients. Before you handle them, you will have to spend at least 16 hours in the classroom learning about communication skills, patients' rights and independence, safety and emergency protocols, basic care, and infection control. The skill training part of instruction is administered by a registered nurse and your curriculum will include both coursework and hands-on practice. During your school classes you will learn 25 different skills and of those you will be tested on 5 during the competency exam.
After you complete your training, your next step is to apply for the competency exam. This exam was designed to test the candidates in their knowledge and skills to determine if they are competent enough to function as a nurse aide on their own. You can get an application packet by going to www.hdmaster.com or by calling (877) 201-7058. To get into the NAR, you will be required to pass both the knowledge test and the skills evaluation exam. If you have trouble in reading English, you may request to have the oral version of the knowledge test.
If you pass all the tests within 3 attempts, your name will be added to the NAR. The Registry will then issue your certificate and send it to your address within 4-6 weeks after you passed. Your CNA certification must remain active in order for you to work as a nurse aide in this state. To keep your certification current, you will need to renew it every 2 years. To be eligible for renewal, you will have to work for at least 8 hours every 2 years. For your work to be qualified, you must get paid for the work you did in a certified nursing facility. In addition, you must also have been under the supervision of an RN during that time.
The city of Martin is a part of Weakley County. According to the latest census, they had a total population of 10,515 people and a population density of 848.9/sq mile. The total area of the city is approximately 12.4 sq miles; all of it is land. The major roads that you can use to get to this city include U.S. Route 45E and State Routes 22, 431, and 43.
The Barker Linda Certified Physicians, Gastroenterology Associates, Martin Medical Center, Martin Health Care, Tri-County Family Medicine & Urgent Care, Behavioral Health Care, Women's Specialty Clinic, Generation Gaithers Group, Renal Care Group, Martin Specialty Clinic, and Pathways Weakley County are examples of the health care facilities that you can find in Martin, TN. photo attribution: westconn