Interested applicants can find the state approved nursing assistant programs located in Danville, California on this page. Students of one of these programs will receive skills practice and classroom based instruction to help prepare for the examination. For more details about nurses aide program requirements, taking the certification exam, or tuition costs, please contact the school through the phone number provided.
Danville Health Care Center
336 Diablo Road
Danville, CA 94526
(510) 837-4566
Reutlinger Community for Jewish Living
4000 Camino Tassajara
Danville, CA 94506
(510) 536-4604
Certified nursing assistants are one of the most in demand healthcare providers in the United States. With such high demands for the profession there is now a shortage of CNAs in California. This means that if you become a nursing assistant, there will be plenty of work waiting for you. There are alos plenty of training programs and facilities that you can choose from to become certified to work. Classes are being offered by colleges, high schools, and community training centers all over the state.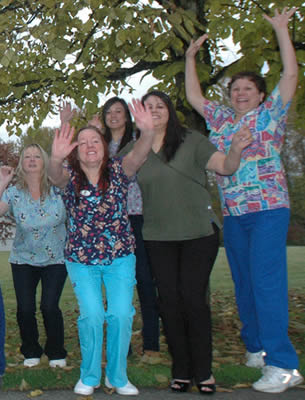 For you to become a nursing assistant, you must be certified and be listed in the Nurse Aide Registry. This Registry is a list of nursing assistants who were able to meet the training standards of the federal and the state. The most common way to become a nursing assistant is to challenge the NNAAP exam. This exam is divided into two parts – the written (oral) knowledge test and the clinical skills evaluation. If you pass both of them, you will receive your certificate from the Licensing and Certification Program. This exam is currently conducted by Pearson VUE. If you want more information regarding the exams, you can visit their webpage at www.pearsonvue.com.
All individuals who wish to apply for the NNAAP exams must attend and successfully finish a state-approved CNA program. These programs are offered by different institutions like vocational and technical colleges, nursing homes , hospitals and assisted living centers, and private training centers. It can take you 4-6 months to complete a program, depending on which program you choose to enroll in. All course have a minimum hourly requirement of 150 class and skills testing hours. Of these hours 24 can be studied through a CDPH-approved online computer training program.
Because of the demand for nursing assistants, other healthcare professionals like registered nurses, licensed vocational nurses, licensed psychiatric technicians, and military-trained medics want to work as a CNA. These individuals are still required to take the NNAAP exam in order to get into the NAR. If their training and education are found sufficient by the Aide and Technician Certification Section (ATCS), they may apply for the exams immediately without any additional training.
A CNA who is listed in another state's Registry can also transfer and work in CA by applying for reciprocity. When applying, the applicant must have a valid certification and a clean record. One will need to submit a copy of their certificate, proof of work within the last 2 years, a completed verification of current nurse assistant certification form to the ATCS. Call (916) 327-2445 to speak with a representative of the CA Department of Public Health to find out additional information about certification in the state.
Danville is a city that is part of Contra Costa County. You can find this in the San Ramon Valley. It is considered one of the wealthiest suburbs of Oakland as well as San Francisco. It has a total population of 42,039 people. Its total area is 18.028 sq miles where all of it is land. Its population density is 2,331.9/sq miles.
Health centers that you can find in the city include Alliance Home Health Care Inc., Kaiser Permanente Health Care – Claims-Outside Services, Kaiser Permanente Health Care, Olympic Health Care, John Muir Health Urgent Care Centers, Health Care Legal Services, Hostetler Health Care, Alliance Home Health Care, Immaculate Health Care LLC, and Natural Health Care Center. photo attribution: ufv