The programs located in Chase City, Virginia for nursing assistants are listed below. Once enrolled in a course students will go through the mandatory instruction to be eligible for testing for their certification.
Southside Virginia Community College
Estes Community Center 316 North Main St.
Chase City, VA 23924
(434) 372-1513
A nursing aide works under the supervision of a registered nurse. These workers help nurses provide nursing care to patients in hospitals, nursing homes, long-term care facilities, assisted living centers, and other healthcare settings. Due to the increasing number of people who are training to become nursing aides, the state now requires all nursing aide candidates to complete a state-approved CNA program and take the National Nurse Aide Assessment Program before working in a state-certified nursing facility.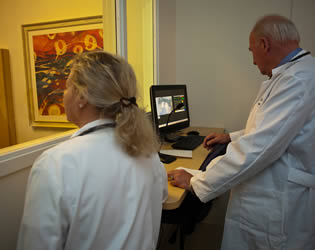 The first step in becoming a nursing aide is to receive the proper training that you need. You'll need to find a suitable training program to enroll in. Chase City has numerous programs for you to choose from. If you found a program that is not in our list, just make sure that they approved by the Board of Nursing before you enroll.
Approved training programs are required by the state to offer at least 75 hours of training. These hours are divided into both lectures and supervised clinical practice. Students will learn about infection control, basic nursing care, personal care, vital signs, nutrition, and many more. Most of the training programs in the state can be completed within w to 6 months.
You can find a suitable training program offered by any of the following:
–    Hospitals
–    Nursing Homes
–    Community Colleges
–    High Schools
–    Private Training Centers
–    Red Cross Organization
–    Government Organizations
–    Vocational Schools
–    Technical Colleges
–    Websites
At the end of your training, you'll be allowed to apply for the certification exam. The certification exam in Virginia is conducted by NACES with the help of Pearson VUE. The certification exam consists of two parts – a written (oral) test and a clinical skills test. Both parts of the certification exam are taken on the same day. You can learn more about the certification exam if you download a copy of the Candidate Handbook by following this link: http://www.asisvcs.com/publications/pdf/075300.pdf.
A nursing aide from another state can transfer and work in Virginia can by applying for Endorsement. Applicants may no longer be required to take the certification exam if they meet all necessary requirements. Applicants must have a clean record and an active certification to be eligible for endorsement. Since every state has its own requirement for endorsement, applicants are encouraged to call the Virginia Board of Nursing at (804) 367-4569 to find out what the exact requirements are.
This town is a part of Mecklenburg County. According to the census of 2000, their total population was around 2,457 people. It has a total area of 2.2 sq miles, where all of it is land. Its population density is 1,121.2/sq mile. This town is well known for its tobacco and crops.
Examples of health care facilities and providers that you can find in the area include Chase City Family Practice, Center of Behavioral Health, Mecklenburg Behavioral Health Center, Chase City Primary Care Center, Moore Earle W MD, and many more. photo attribution: codnewsroom