The schools providing open enrollment of nursing assistant classes in Victorville, California as of the making of this page are listed here. If you know other programs that have been approved by the CA Department of Public Health, send them to us for inclusion here.
Victor Valley College
18422 Bear Valley Rd. Victorville, CA 92392
(619) 245-4271
Website: http://www.vvc.edu/
According to the U.S. Bureau of Labor Statistics, the demand for nursing aides throughout the country is continuously increasing. This demand is said to continue up to 2018. Because of this fact, a lot of people are now asking questions about how to become a nursing aide.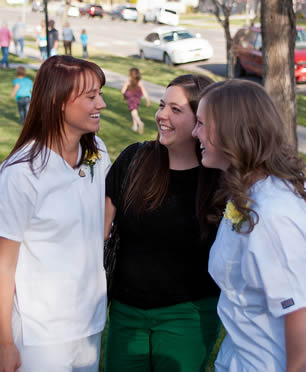 What are the requirements to work as a nursing aide?
The OBRA of '87 states that all nursing aides must be properly trained and certified to work in a state-approved healthcare facility.
How do you get a CNA Certification?
If you have never been certified as a nursing aide before then you can only do so by passing the state's certification exam. This certification exam is only offered to those who completed a state-approved training program.
Where can you enroll in a CNA program?
CNA programs are offered through different institutions and schools such as hospitals, nursing homes, assisted living centers, rehabilitation clinics, community colleges, vocational schools, technical colleges, private training centers, and government organizations.
What will you learn in a CNA program?
CNA training in California takes at least 150 hours to complete. These hours are divided into 50 hours of classroom training and 100 hours of clinical practice. Students are handled by clinical instructors, and are not allowed to perform any procedure that has not yet been taught in the classroom. Examples of topics that are taught in every program include:
•     Safety Precautions
•    Emergency Procedures
•    Patient's Rights
•    Roles and Responsibilities
•    Basic Nursing Procedures
•    Vital Signs
•    Body Mechanics
•    Nutrition
•    Infection Control
•    Long-term Care Patients
•    Personal Care
•    Mental Health
What is the Certification Exam?
The certification exam is the final step in becoming a nursing aide. This exam consists of a multiple-choice knowledge test and a clinical skills evaluation. If you pass both of the tests, you will receive your CNA certificate issued by the state's ATCS.
I am already a CNA from another state. Can I transfer my certification to California?
The answer is, yes. California offers reciprocity to nursing aides from other states. To be eligible for application, you must have a current certification and a clean record. You must not be listed on the Abuse Registry. You must also be able to pass the background checks done by the federal and the state. You will be asked to provide documents that will prove your training and experiences. To learn more about the state registry you can email them at cna@cdph.ca.gov, or reach them by phone at (916) 327-2445.
Do you have any questions that were not answered?
For additional information, please call the ATCS at (916) 327-2445 during working hours (from 8:00 AM to 5:00 PM) or visit www.cdph.ca.gov.
Victorville is part of Victor Valley which is in the southwestern part of San Bernardino County. As of the latest census, they already have around 115,903 people. You can find this city situated in the southwestern edge of the Mohjave Desert. It is also around 81 miles northeast of L.A. and south of Barstow.
The Desert Valley Hospital and the Victor Valley Community Hospital are included in the top 10 biggest employers in the city. Other health centers in the city include Wang & Liu Health Center, Industrial Medical Services, Maxim Health Care Services, Elite Healthcare Partners, Kare Medical Group, Behavior Health Consultant and many more like them. photo attribution: kkleinrn