The nursing assistant training programs in Monroeville, Pennsylvania that are open for you to enroll in are shown below. If you know of other state approved school listings that are available in the area, please contact us and we will add them to the page.
Forbes Road East Career Technical Center
607 Beatty Road,
Monroeville, PA 15146
(412) 373-8100
According to the OBRA of '87, only a certified and properly trained nursing aide may work long-term in any healthcare facility. This is to ensure that the patients will receive only proper care from them, which helps meet the goal of the Nursing Home Reform Act. There are also other requirements that must be met before getting certified such as passing the criminal background checks, and physical and medical examinations; most of the other requirements can be completed within a short period.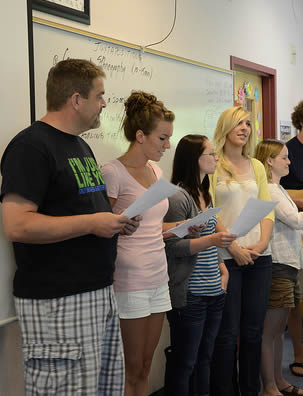 The first step that must be taken in the nursing aide certification process is to enroll in a state-approved CNA program. Courses in Pennsylvania are offered by different facilities such as colleges, high schools, vocational centers, nursing homes, and community training centers. All programs that are being offered in the state are approved and are being monitored by the Pennsylvania Department of Education. They ensure that the students receive proper education and training. Approved programs are required to consist of 37.5 hours of supervised clinical practice and 42.5 hours of theoretical instructions. The majority of the programs offered in the state can last around 12 to 24 weeks of continuous training.
Before anyone is allowed to enroll in a program, one must first undergo and clear the criminal background checks. If a person who is living within the state has received a job offer from a federal nursing facility, then that person is only allowed to work for up to 30 days while waiting for the results. These 30 days are already included in the 120 day rule that a individual without certification may work as a nursing aide.
After completing a program, the next steps are to apply and take the certification exam. This is a two part examination, which consists of a multiple-choice knowledge test and a random skills evaluation. The knowledge test may be taken either as a written or oral examination. If you are unsure of which type of exam to take, you should try the Self-Assessment Reading Test by going to this link: http://www.portal.state.pa.us/portal/server.pt/community/nurse_aide_registry/14154/nurse_aide_self_assessment_reading_test/558493. For testing locations you can contact the American Red Cross at 1-800-795-2350. If you want to find out more about registry requirements call Pearson VUE at 1-800-852-0518.
If a candidate is able to pass both tests within two (2) years after passing, then his name will be entered into the Nurse Aide Registry, and he will be given a Registry Card. This card will show proof that a candidate has met the federal and state's training and testing requirements. However, employers are still required to verify every applicant before hiring. To check a person's certification as a nursing aide, just go to this link: https://www.pulseportal.com.
Names on the Registry, as well as the Registry Card, are only valid for two years. Certified nursing aides must renew their certification to keep their eligibility to work in a federal nursing facility. The state requires all CNAs to work for at least one day as a paid nursing aide to qualify for recertification.  To renew your certification, please go to https://pulseportal.com. Once your certification has been renewed, the NAR will send a new Registry Card to your mailing address.
This is a home rule municipality that is located in Allegheny County. You can find the city a few miles east of Pittsburgh. The city was named after Joel Monroe, who was the first post master in the area. As of the 2010 census, their total population had reached up to a total of 28,386 people with a population density of 1,400/sq mile. The total area of Monroeville is approximately 19.8 sq miles, where the vast majority of it is land. Major highways that you can access from the area include U.S. Route 22 and State Route 48.
Health care providers that you can find in the area include University of Pittsburgh Physicians, Dialysis Clinic Inc., Spinal Healthcare Center, Allegheny East Enterprise, DCI Renal Services of Pittsburgh LLC, Health Services for Women PC, Human Motion Rehabilitation – Rehabilitation Physical Therapy, Milestones Community Healthcare Inc., Health Services for Women PC, and Vein Center Pittsburgh. photo attribution: ufv