The schools conducting nursing assistant classes in Marietta, Georgia that are listed on this page are all the certification instruction programs that are open for enrollment. These courses all meet current requirements and have been approved by the state registry.
Assist A Nurse Training Center, Inc.
833 Campbell Hill Street,
Marietta, GA 30060
(678) 355-0043
Website: http://www.assistanurse.com/
Avett Quality Services, Inc.
1730 Austell Road SE,
Marietta, GA 30008
(770) 432-7227
Website: http://www.avettnursing.com/
Chattahoochee Technical College
980 South Cobb Drive,
Marietta, GA 30060
(770) 443-3619 and (770) 528-4550
Website: http://www.chattahoocheetech.edu/
Multicare Training Institute
110 Lewis Drive NE,
Marietta, GA 30060
(770) 427-4338
Marietta Health and Rehabilitation Center
50 Saine Drive,
Marietta, GA 30008
(770) 429-8600
To ensure that the residents/patients receive high quality care from the nursing assistants, it is required by the state for those aspiring CNAs to enroll in and complete a Nurse Aide Training Program that is certified by the state. The Georgia Medical Care Foundation or GMCF oversees and certifies all NATPs and competency exams in this state.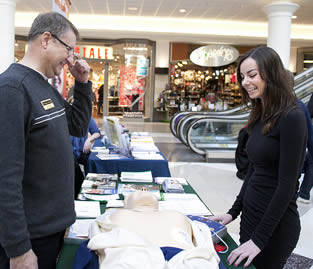 Certified programs will offer their students a minimum of 85 hours of training, where 24 of it will be for clinical duties. Their training will be composed of classroom lessons, laboratory skills training, and clinical rotations. A student will not be allowed to proceed into clinical rotations if the student does not get a 100% rating in the lab. It takes an approximately 2 to 6 months to finish a certified program.
During instruction you will practice basic nursing skills. Some of the tasks you will utilize are: communication skills, emergency protocols, infection control measures, taking and recording vital signs, measuring height/weight, recognizing changes in body function, caring for the health care environment, nourishment, bathing, dressing, and performing range of motion exercises.
After completing the program, the student must then apply for the license exam. If the applicant passes, his/her name will be entered in the state's Nurse Aide Registry. They must maintain their name there to be eligible to apply for jobs as a nursing assistant. You can contact the Georgia Nurse Aide Registry at (800) 414-4358, or locally at (678) 527-3010 to get additional certification details and information.
This city is the county seat of Cobb County. It is included in the Atlanta–Sandy Springs–Marietta, Georgia, metropolitan statistical area. It is considered as the largest city in the county. According to the census of 2010, their total population was around 56,579 people. It has a total area of     22 sq miles and a population density of 2,600/sq mile.
The WellStar Kennestone Hospital is considered as the number one employer in the city. Other health care centers that you can find in Marietta include Amiri Mandana Rezael MD, Physicians Specialists, East Cobb Urgent Care, Metro Health Center, Marietta Surgical Center, Healthcare Receivable Professionals Inc., Southern Psychological Association, and Coram Health Care. photo attribution: codnewsroom