The nursing assistant classes that are being offered in Lebanon, Tennessee are shown here in detail. Students must complete a state recognized training program and pass the competency evaluation to receive certification to work in care facilities.
Wilson County Vocational Center
418 Harding Drive,
Lebanon, TN 37087
(615) 444-1104
The Omnibus Budget Reconciliation Act of 1987 required the states to start and maintain Nurse Aide Training and a Competency Evaluation Exam. This was done to improve the quality of care the patients receive, especially from nursing aides. Anyone who wishes to become a nursing aide must now undergo the proper training and be tested in a competency exam to determine if they meet the standards set by the federal and the state. You are also required to pass the background checks that are conducted by both the federal and the state and pass the state competency exam.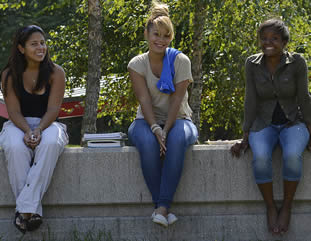 A CNA program will help nursing aide candidates to gain the knowledge and skills that they will need in order to take care of the individual needs of the patients. When enrolled, their training will consist of lectures and practical training. Training will teach you many of the common skills you will need to know to work in a health care facility. Classes are administered by a RN and last at least 75 hours. Before the students handle any actual patients, they will have to complete at least 16 hours on the following areas:
•    Infection Control
•    Safety and Emergency Procedures
•    Residents' Rights
•    Residents' Independence
•    Interpersonal Skills and Communication Techniques
By completing a training program, the candidates will be allowed to proceed and apply for the competency exam. This exam is divided into a knowledge test and a skills test. Both of the tests are given on the same day by the Headmaster Testing Service. If the candidate is able to pass both parts of the exam within 3 attempts and within 2 years from completing his training, he will be entered into the Nurse Aide Registry.
Those who are listed in the Nurse Aide Registry are the nursing aides who were able to meet the federal and state's training and testing requirements. Before an employer hires a nursing aide, he will first verify the applicant's certification by going to http://health.state.tn.us/Licensure/default.aspx or calling (800) 778-4504. They will only hire nursing aides who are listed in the Registry.
A CNA must keep his name on the Registry to keep his eligibility to work as a nursing aide. Every certified nurse aide must renew their certification every 2 years before it expires. To be eligible for renewal, the nursing aide must find work in a care facility while under the supervision of a registered nurse. The work must be done in a certified nursing facility and must total at least 8 hours.
Lebanon serves as the county seat of Wilson County. You can find this city at the center of the state and is about 25 miles east from Nashville. Locals refer to this city as "Cedar-City", due to the number of cedar trees that are found in the area. According to the 2010 census, their total population had reached up to a total of 26,190 people. It has a population density of 677.9/sq mile. Lebanon has a total area of approximately 38.63 sq miles, where its majority is land. You can find Interstate 40 running south of this city.
Examples of health care providers and centers that are found in the area include The Dialysis Clinic Inc., Hearing Health Center, University Medical Center, Restorative Health Service, Spectrum Laboratory Lebanon Health Center, Cedars Health Care Center, American Health Associates, Lifecare Family Services, Hma Physicians Management, and many more. photo attribution: westconn