The nursing assistant training classes that are found in Hazleton, Pennsylvania and are available for enrollment are listed in detail here on this page. Each of these programs have been approved by the PA Department of Health as of the writing of this post.
Hazleton Area Career Center
1451 West 23rd Street,
Hazleton, PA 18201
(570) 459-3111
Mountain City Nursing
1000 West 27th Street,
Hazleton, PA 18201
(570) 454-8888
NSB Trainers Nursing Assistant Course
Mailing address: P.O. Box 2091, Hazleton, PA 18201
Physical address: 1330 East Chestnut St. Hazleton, PA 18201
(570) 453-7241
When you enroll in a CNA training program you will be taught various subject that you will use in taking care of the patients as a nursing assistant. In class you will learn basic nursing skills including infection control, recording vital signs, emergency protocols, mental health, toileting, range of motion exercises, postmortem care, resident housekeeping, catheter care, and total dependent dressing. You must complete a state set number of hours in both instruction lectures, and clinical duties in a medical environment to complete the program. Before enrolling you will want to make sure the program has been approved by the PA Department of Health. You can call them at 800-852-0518 or 717-787-1816 to get more information.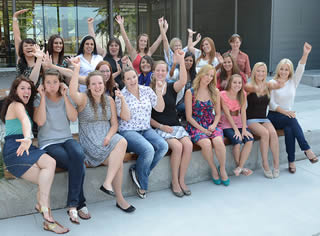 Once you have finished your school program you are allowed up to 24 months to complete the certification exams. Exams are split into two parts, a written and a manual test. For the written part you will need to answer 50 multiple choice questions. The manual test is basically a skills demonstration where you will need to perform several of the nursing related proficiencies you learned in training. Each test taker receives three chances to pass both tests. The exams are conducted by Pearson VUE and you can find out more about them by calling 1-800-852-0518.
To find testing locations you can contact the American Red Cross at 1-800-795-2350. You can also reach them via their office for questions and application fees at:
American Red Cross
1804 North 6th Street,
Harrisburg, PA 17102
Once you pass you are eligible to work for 24 months and are placed on the state nurse aide registry. To remain eligible to continue working you will need to submit verification of employment in the capacity of a nurse aide. It is important to keep your contact information up to date so the registry can notify you of your expiration date and other important information.
The city of Hazleton is located in Luzerne County. This city is also known as The Mountain City and the Power City. As of the 2010 census, their total population was estimated to be 25,340 residents. The total area of the city is approximately 6.0 square miles, where all of it is land. Major roads that you can use to get to this city include Interstates 80, 81, and 476.
Examples of health care providers and clinics that can be found in the city include The Kidney Center of Greater Hazleton, Hazleton Radiology Associates, Staff Builders Home Health Care, Mountain Area Health Care, Powell Healthcare Consultant, Hazle Drugs Inc., Mountain Area Health Care PC, Hazleton Physical Therapy, Urgent Care Hazleton, and United Rehabilitation Services Inc. photo attribution: ufv