Classes in Hampton, Virginia that are currently available for enrollment for nursing assistants are listed on this directory. Those who meet the qualifications and complete the program will go on to take the license examination. You can learn more about sign-up procedures by calling a school and talking with an administrator.
Health Service & Education
1048 Big Bethel Rd Hampton VA 23666
757-869-5604
webpage: www.naclass.info
New Horizons Regional Education Center 1 and 11
520 Butler Farm Road
Hampton, VA 23666
(757) 766-1100
Looking for a way to start a career in health? Do you already have a job and think that a change in career can be difficult? Well, the answer to your prayers is to become a nurse aide in Virginia. The healthcare industry in this state is always booming. There are plenty of jobs waiting as well as various opportunities to climb up on the career ladder. Already thinking about it? Before you go and change careers, its best that you know what being one of these health-care workers is all about.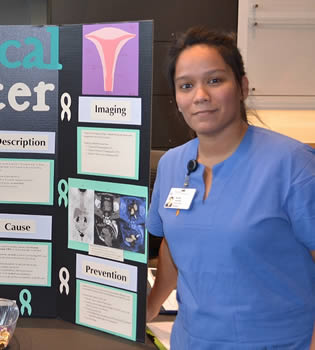 What is a certified nurse aide?
A nurse aid works under the supervision of a registered nurse and other members of the healthcare team like doctors. They assist nurses in providing nursing and nursing-related care to patients who are in different healthcare institutions. A nurse aide is one of the most important members of the healthcare team.
What exactly does a nurse aide do?
The job description for nurse aides is very wide. The tasks that they perform depend greatly on what tasks are delegated by the nurses. Some of the tasks can sometimes be a bit discouraging for some. For example, some tasks might involve helping patient's bathe, dressing them, assisting them on going to the toilet or changing their diaper; some might require help eating, or ambulating.
Where to learn how to become a CNA?
There are various training institutions and schools that are offering this type of training. When selecting a program to enroll in, you must make sure that the program is approved by the Board of Nursing. There are training institutions that offer cheap training; there are also those that offer scholarships that you can try out.
Examples of where you can find a program include:
–    Hospital
–    Nursing Home
–    Assisted Living Center
–    High Schools
–    Community Colleges
–    Government Organizations
–    Vocational and Technical Schools
–    Long-term Care Facilities
–    Rehabilitation Centers
–    Websites
What to do after training?
Once you complete your training, your next and final task is to challenge, and pass, the National Nurse Aide Assessment Program Exam or NNAAP exam. Passing this exam will prove that you are a competent nurse aide. If you pass, the BON will give you a CNA certificate, which you can show to your potential employers when you go job hunting.
This independent city is not part of any county in the state.  According to the census of 2010, their total population was around 137,436 people. It has a total area of approximately 136.2 sq miles, and has a population density of 2,919.3/sq mile. You can find Norfolk just south of this city, as well as Norfolk.
Examples of health care providers in the city include Landmark Healthcare Facilities, Southampton Health Services, Bethel Clinic, Rountree Alan Psyd, We Care Health Care, Care Plex West LLC, Riverside Behavioral Health Center, Holistic Mental Health, Sentara Family Medicine Physicians, and many more. photo attribution: codnewsroom