The nursing assistant classes in Fond du Lac, Wisconsin that are open for enrollment as of the making of this post are all listed below. The training schools shown on this page have been approved for the state of Wisconsin. For more information about enrolling in their nursing assistant classes, please call the phone number provided.
TOUCHSTONE LEARNING CENTER
PO BOX 547
FOND DU LAC, WI 54936
(920) 922-7242
www.touchstoneliving.us
Job stability is one of the biggest advantages in working in the field of health. Since health care will always be a necessity, there will always be jobs waiting for health care providers. So, if you are looking for a stable job, then why not start a career in this field.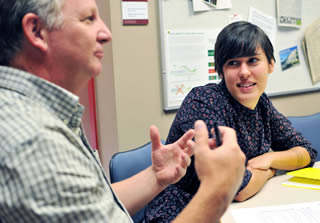 Nursing aides are among the most in demand healthcare professionals today. They are entry-level professionals who work under the direct supervision of RNs and LPNs. They assist in providing and maintaining nursing care to patients in different healthcare settings, including the patient's own home. Compared to other careers, you don't need to spend years in training before you can become one.
The first thing that you'll need to do to become a nursing aide is to equip yourself with the knowledge and skills needed to properly meet the individual needs of the patients. This can easily be achieved by enrolling in a Nursing Aide Training Program or NATP. NATPs are offered by various healthcare institutions and schools such as hospitals, nursing homes, community colleges, government organizations, and private training facilities across the entire state.
CNA training is divided into both classroom/lab instructions and practical training. State-approved programs are required to offer no less than 120 hours, which 32 of those hours must be allocated for practical training. Students are supervised by a clinical instructor and are not allowed to perform any procedure without the instructor's knowledge or presence.
Training costs? Well, you don't have to worry about that. If you get hired – or receive a job offer – from Medicaid/Medicare health care facility, then all your expenses (both training and testing) will be paid for by the hiring facility. Those who enrolled in a program prior to get hiring can still get reimbursed for their expenses.
Once you complete your training, the next step is to take the competency evaluation exam or state exam. This exam consists of a written/oral test and a skills evaluation exam. If a candidate passes both tests within 3 attempts, then his name will be entered into the Nurse Aide Registry and he will be given a certification card.  Passing this test will mean that you are a competent nursing aide who was able to meet both federal and state standards.
This city is situated in and is the county seat of Fond du Lac County. It is included in the United States Census Bureau's Fond du Lac Metropolitan Statistical Area. According to the census of 2000, their total population was around 42,203. Its total area is approximately 18.2 sq miles, and has a total area of approximately 2,501.3/sq mile.
Health care centers that you can find in the area include ResCare HomeCare, Heartland Hospice Services, Rehab Arisces LLC, All About Life Rehabilitation Center, Family Focus Eye Care, Back In Action Rehabilitation, Fond Du Lac Psychiatry, and many more. photo attribution: ufv