The nursing assistant classes in Downey, California are provided in the listings below. The listing includes programs, schools, and different classes regarding certification and their addresses and phone numbers.
Lacorop/Arcadia USD-Section A
9300 E. Imperial Highway
Downey 90242, CA
(626) 821-8370
Lacorop/Pasadena USD
9300 E. Imperial Highway
Downey, CA 90242
(213) 368-7269
Lacorop/El Monte UHSD ROP Program
9300 E. Imperial Highway
Downey, CA 90242
626-444-9005
Lacorop/culver City USD-Section
9300 E. Imperial Highway
Downey, CA 90242
(562) 922-6728
Acorop/Monrovia USD
9300 E. Imperial Highway
Downey, CA 90242
(213) 368-7269
Downey USD – AM Program
12340 Woodruff Ave.
Downey, CA 90241
(562) 940-6233
Downey Adult School/PM
12340 Woodruff Avenue
Downey, CA 90241
(562) 940-6200
Los Angeles County ROP
9300 Imperial Highway
Downey, CA 90242
(626) 258-5800
One of the best ways to start a career in medicine is to become a certified nursing aide. These workers are entry level professionals that can be found in different healthcare settings. They are very in demand not just in California, but in other states as well.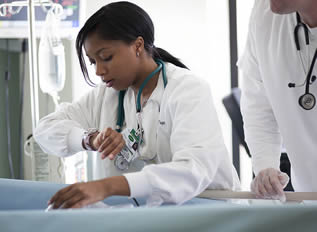 Working as a nursing aide means that you will be working under the care of licensed nurses. You will be helping them to provide basic nursing care to patients who are living in hospitals, nursing homes, assisted living centers, rehabilitation clinics, long-term care facilities, and even in their own homes.
Before you handle any patient you must first learn how to properly meet their individual needs. That is why the first thing that you should do is to enroll in a state-certified CNA course. These programs will teach you all the knowledge and skills that you will need to become a competent nursing aide.
As a student you will spend at least 50 hours in the classroom for your lectures and 100 hours for your supervised practical training. Both the lectures and practical training will be done at the same time. Depending on the program you enroll, it can take you from 8 to 24 weeks to complete your training. Before you are allowed to handle any patient, you are required to spend 16 hours learning the following concepts:
•    Infection control
•    Communication and Interpersonal skills
•    Safety Precautions
•    Emergency Care including the Heimlich Maneuver
•    Respecting the Patient's Rights
•    Promoting the Patient's Independence
Completing an approved program will make you eligible to apply for the certification exam. Taking the certification exam is the final step in becoming a certified nursing aide. You can only work in California as a nursing aide if you are certified by the Aide and Technician Certification Section. Employers will always verify your certification before they hire you.
The certification exam is divided into two parts- a written/oral test and a skills evaluation exam. The written/oral test consists of 70 multiple-choice questions. Candidates will have 2 hours to answer all of the questions. As for the skills evaluation, they will be required to perform 5 randomly selected nursing procedures in front of an evaluator. They must pass both tests to get certified.
The certification exam in California is conducted by Pearson VUE at approved testing centers throughout the state. To help you further prepare, you should visit www.pearsonvue.com or www.cdph.ca.gov and download a copy of the Nurse Aide Candidate Handbook.
CNA certifications in this state must be renewed every 2 years. If you fail to renew your certification you will no longer be allowed to work in a state-approved nursing facility. An expired certificate cannot be renewed, but can however be reactivated by taking a competency evaluation exam within a year of its expiration. For more information, please follow this link: http://www.cdph.ca.gov/certlic/occupations/Documents/How-to-Renew-Your-Cert.pdf.
The city of Downey is located in the southeast are of the Los Angeles County. To be specific, you can find it 21 kilometers downtown of Los Angeles City. This city is best known for where the Apollo space program started. As of last year, the city's population has reached up to 111,772.
The top employers of the city include Stonewood Center, Downey Regional Medical Center, Lakewood Park Health Center, and the All American Home Center. Other health centers located in Downey include Physicians' Surgery Center Of Downey, Family Planning Associates Medical Group, Warner Linda M Doctor of Osteopathi, Med Net, All Seasons Health Center, and Santo Tomas Medical Clinic. photo attribution: codnewsroom