The nursing assistant classes in Costa Mesa, California are provided for you in detailed below. Included in the list are all the state licensed training programs that you can enroll in at this time.
Coastline R.O.P./A M Program
1001 Presidio Sq.
Costa Mesa, CA 92626
(714) 979-1955
[Multiple Classes and Programs available]
Pacific College
3160 Red Hill Avenue
Costa Mesa, CA 92626
(714) 662-4402
[Weekdays and Weekend classes are available]
According to the federal and state law, only nurse aides who are certified by the state are allowed to work in a state-approved healthcare facility. This is to ensure that the nurse aides working in these facilities are competent in their work and are able to provide top quality care to the patients.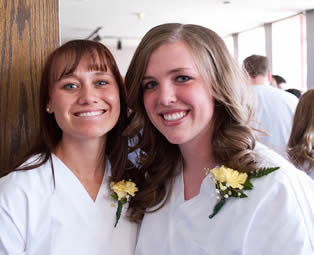 The first step in getting certified in California is to enroll in a Nurse Aide Training Program (NATP) that is approved by the state's Department of Public Health. NATPs are offered through different institutions and schools like nursing homes, hospitals, assisted living centers, clinics, rehabilitation homes, community colleges, government organizations, and private institutions.
To be accepted in a program you must meet the following conditions:
•    Be at least 18 years old
•    Be able to understand and speak Basic English, since most of the patients will be speaking in that language
•    Have a high school diploma, a GED certificate, or something that's equivalent
•    Be physically capable of taking care of patients
•    Free of any communicable diseases such as TB
Every training program is required by the state to offer at minimum of 150 hours of training. They must be headed by a qualified CNA Instructor, and must teach 16 modules. These modules will cover the following concepts:
•    Body Mechanics
•    Personal Care
•    Nutrition
•    Mental Health
•    Basic Nursing Care
•    Vital Signs
•    Medical and Surgical Asepsis
•    Therapeutic Communication
•    Safety and Emergency Procedures
•    Patient's Rights and Independence
The next step after training is to establish eligibility to apply for the NNAAP exam by submitting the Initial Application Form (http://www.asisvcs.com/publications/pdf/070503.pdf) to the ATCS. Once they deem you eligible, you can then submit the application form (http://www.asisvcs.com/publications/pdf/070508.pdf) for the NNAAP exam along with the payment of $90 for the testing fee.
Payments must only be in the form of money orders, company checks, or cashier's checks. Cash and personal checks are not accepted. Payments made on the exam date are also not accepted. Keep note that incomplete applications will not be processed.
The NNAAP exam consists of a written/oral knowledge test and a clinical skills evaluation.  The written exams will cover all that you have been taught during your training. As for the skills demonstration, out of all the medical skills, there will only be a few that will be randomly selected and ask to be performed. Aspiring nurse aides must pass all the tests to get certified.
With so many people taking the NNAAP exam, the state has asked Pearson VUE to help conduct, score, and release the exam results. To help you prepare better for the exam, you can visit www.peasonvue.com and download a copy of the Candidate Handbook. Once your name is entered in the state's Nurse Aide Registry, you will receive your license. Contact the CA Department of Health for more details about qualifying for your certification by calling (916) 552-8700.
This city can be located in Orange County, CA. It has a population of over 109,960 people and is still continuously growing. Its total area is 15.700 sq miles with a population density of 7,004/sq miles. It is considered as the 8th most populated city in the entire county, 56th in the entire state of California and 236th in the country.
Health care clinics and facilities that you can find in the city are Newport Integrative Health, Swanson Health Center, Healthcare Plus Ins Srv Inc, The Living Success Center, Sano Medical Center, TLC Health Care, Lindora Medical Clinic, Family Care Centers, Hoag Hospital – Hoag Health Center Costa Mesa, Health Direct and Fresenius Medical Care. photo attribution: kkleinrn